This week in the Law Library we are publicizing our job posting for Instructional & Reference Services Librarian; teaching Low Cost and Free Legal Research and Advanced Legal Research; focusing on resources to help you with learning Evidence; learning more about mass incarceration; continuing our celebration of Black History Month; and beginning our celebration of Women's History Month. We're also previewing U.S. Supreme Court oral arguments.
The Robert S. Marx Law Library Is Hiring an Instructional & Reference Services Librarian
The Robert S. Marx Law Library at the University of Cincinnati College of Law invites applications for the position of Instructional & Reference Services Librarian. As an integral part of the College of Law, the Library helps prepare law students for legal practice and supports faculty scholarship and teaching. The Instructional & Reference Services Librarian reports to the Associate Director of the Law Library. View more information at jobs.uc.edu #80923.
This Week's Research Sessions
Monday, Feb. 28, 2022
Advanced Legal Research
Legal Technology & Research Instructional Services Librarian, Shannon Kemen & Electronic Resources​  & Instructional Technology Librarian Ron Jones
1:30pm – 2:55pm
Room 100A
Wednesday, Mar. 2, 2022
Advocacy, Sec. 2
Associate Director Susan Boland
Low Cost & Free Legal Resources
10:40am – 12:05pm
Room 302
Advanced Legal Research
Legal Technology & Research Instructional Services Librarian, Shannon Kemen & Electronic Resources​  & Instructional Technology Librarian Ron Jones
1:30pm – 2:55pm
Room 100A
Featured Study Aids
Available via the West Academic Study Aid subscription, this well-known hornbook covers preparing and presenting evidence, cross-examination, and the procedure for admitting and excluding evidence. It discusses the privilege against self-incrimination, the privilege concerning improperly obtained evidence, scientific evidence, and demonstrative evidence. It reviews authentication, the hearsay rule, burdens of proof, and presumptions. The text also identifies current issues.
Available via the Aspen Learning Library, this study aid covers the Federal Rules of Evidence and includes the latest Supreme Court cases. It also analyzes the ebb and flow of Confrontation Clause jurisprudence. Analysis is first provided for a topic and then examples are given to help students understand the analysis. A series of problems at the end of each section or chapter assist you in testing your understanding. Answers are provided for these problems.
Available via the LexisNexis Digital Library, this text focuses on the Federal Rules of Evidence, breaking down the hearsay rule into its elements and explaining them in straightforward language. It does the same for each of the 29 exceptions to the hearsay rule. The book covers the Sixth Amendment Confrontation Clause and includes a proposed amendment to the Rules. It also explains related subjects: what a grand jury is and how it operates; offers of proof, order of proof, burdens of proof; conditional relevancy and conditional admissibility; and privileged communications.
Featured Guide
This guide links to the many evidence study aids that can help you prepare for class, understand the subject, and review for exams.

Featured Treatise
Available on Lexis, This well-known treatise on evidence is comprehensive and has been frequently cited by the United States Supreme Court. Chapters are organized by rule number, and the discussion in each chapter is broken down into logical descriptive topical section headings to enable users to quickly find the specific information for which they are looking. The analytical text focuses on the current state of the law and includes footnotes organized by circuits (with brief descriptions of each case), while retaining information on the historical development of the law in historical appendices to each chapter. In addition to clearly setting forth the law, Weinstein's Federal Evidence provides expert analysis and coverage of unsettled evidence issues.
Featured Database
Available on Bloomberg Law, the E-Discovery Practice Center contains a broad range of authoritative resources and practical guidance to meet the evolving, complex legal challenges associated with electronically-stored evidence. The practice center's home page features a curated collection of fully searchable state and federal court opinions, state-specific discovery guidance and rules, and BNA's E-Discovery Portfolio series, which together provide an entry point to other key resources. It provides easy access to a range of related disciplines including cross-border data transfers, government and internal investigations, and data and privacy security, enabling practitioners to be well-versed in the full range of issues they will face in any litigation.
Featured Website
Every weekday, law professors post on the very latest rulings regarding the admissibility of evidence in criminal cases and what sorts of lines of questioning should be permitted at criminal trials. They also note differences between the federal rules of evidence and the rules of various states. Occasionally, they will comment on whether they think courts have reached the right outcomes in these evidence cases or note fishy behavior by prosecutors.
Featured Video
This video covers amendments to the Federal Rules of Practice and Procedure on Self-Authenticating Electronic Evidence. Federal Rules of Evidence 902(13) and 902(14), which became effective on December 1, 2017, provide for the self-authentication of electronic evidence. Under these rules, electronic evidence can be authenticated by certification instead of by testimony. Rule 902(13) applies to electronic evidence such as computer files, social media posts, and smart device data. Rule 902(14) applies to electronic copies.
Week Against Mass Incarceration
For the 2022 Week Against Mass Incarceration (Feb. 28-March 4), the National Lawyer's Guild asks National Lawyer's Guild Law Schools and Local Chapters to organize around the theme of "Mass Incarceration and the Housing Crisis" to explore the intersections of housing policy, evictions, the COVID-19 pandemic, and the criminalization of poverty in the perpetuation of the mass incarceration crisis.
UC College of Law Events
Monday, February 28: Week Against Mass Incarceration (WAMI) Re-Entry Simulation, 12:15 – 1:15 pm, outside Rooms 114 and 118.
Tuesday, March 1: WAMI Letter Writing to Incarcerated Survivors, 7:00 pm, via Zoom. Registration required.
Wednesday, March 2: WAMI Presentation by Robert Saleem Holbrook, Executive Director of the Abolitionist Law Center, 7:00 pm, via Zoom.
Selected Resources on Mass Incarceration and Housing
How U.S. Housing Policy Impairs Criminal Justice Reform (Law Review Article, 2021)
The Prison to Homelessness Pipeline (Law Review Article, 2018)
Policing and Gentrification (Autonomous Tenant Union Blog, 2018)
Nowhere to Go: Homelessness among Formerly Incarcerated People (Prison Policy Initiative Report, 2018)
Collateral Consequences of Mass Incarceration and Impediments to Women's Fair Housing Rights (Law Review Article, 2012)
Rise of Criminal Background Tenant Screening as a Violation of the Fair Housing Act (Law Review Article, 2009)
Incarceration and Homelessness (Book Chapter, 2008)
Housing Resources in the South (Resource Guide, 2021)
February is Black History Month
This year's theme for Black History Month is Black Health and Wellness. According to the Association for the Study of African American Life and History, "[t]his theme acknowledges the legacy of not only Black scholars and medical practitioners in Western medicine, but also other ways of knowing throughout the African Diaspora. The 2022 theme considers activities, rituals and initiatives that Black communities have done to be well."
UC College of Law & Campus Events Celebrating Black History Month
Robert S. Marx Law Library Display Showcasing the Life of Judge Nathaniel Jones
The law library is pleased to invite you to view the newest display showcasing the life of Judge Nathaniel Jones. The College of Law's Center for Race, Gender and Social Justice is named in honor of Judge Jones and his life's work in promoting social justice. The College of Law is privileged to host Judge Jones's archives. Please come by the main entrance of the law library to view documents and artifacts from Judge Jones's storied career.
Previous Marx Markings posts on Judge Jones
UC Law Black History Month Interviews
Ashley Nkadi is a second-year law student at the University of Cincinnati and a Nathaniel R. Jones Center for Race, Gender, and Social Justice Fellow. She graduated from the University of Cincinnati, where she co-founded the Irate-8, a student-led digital social activist movement. She spoke with us about why celebrating Black History Month is important, especially in the context of the College of Law. Learn more about Ashley's journey to law school in a Counselor Magazine feature from this past summer.
Travis Hardee is a first-year UC Law student from South Carolina pursuing both his JD and MA in Women's, Gender, and Sexuality Studies as part of UC's dual degree program. He spoke with us about why closing the representation gap in the legal field—one of the least diverse industries—is important to him, and how he hopes to support other Black-identifying people in their pursuit of legal education.
Janelle Thompson is a third-year law student at Cincinnati Law, a Nathaniel R. Jones Center for Race, Gender, and Social Justice Fellow, president of the Black Law Student Association (BLSA), Secretary of the Student Bar Association, and a member of the Intellectual Property Club. Janelle was an intern at KMK Law in the summer of '21 and plans to join the firm following graduation. You can read more about Janelle and her story on UC Law's website.
UC Libraries
UC Libraries resources in celebration of Black History Month:
CECH Library's Social Issues for Criminal Justice Careers, a guide of anti-racism resources for students to help equip them for law enforcement jobs in a diverse society.
Source article highlighting Lucy Oxley, MD, the first person of color ever to receive a medical degree from the College of Medicine.
History LibGuide highlighting African American collections, including The Amistad Research Center providing open access to materials on ethnic & racial history, African Diaspora & civil rights.
Theodore M. Berry Papers, an exhibit highlighting the papers of Theodore Moody Berry, Cincinnati's first Black mayor.
Oesper Collection Highlights: Honoring African-American Chemists (Alice Ball)
This first installment in the Oesper Collection Highlights celebrates African-American History Month. African-American Chemists selected for these profiles were early pioneers in the field – some were the first to achieve PhDs in chemistry, whereas others made significant contributions to study and practice. Sometimes their stories and voices have not been heard. The Oesper Collections and Museum in the History of Chemistry at the University of Cincinnati is highlighting and celebrating these accomplished African-American chemists who contributed across the spectrum of the chemistry discipline.
This video, produced by the UC's Alumni Association, debuted at the 2019 Onyx & Ruby Gala, hosted by the UC African American Alumni Affiliate. Looking back on its 200-year history, UC reflects on the experiences of its Black students and the enormous contributions of its Black alumni.
This PocketSights tour, accessed through a digital app, shares some of the most important people, places and events in UC's Black history including triumphs like the creation of the African American Cultural & Resource Center, as well as the early Black struggles for inclusion in residence halls and campus organizations. This trail will help educate students, faculty and neighbors on the importance of African American history around us every day and push us to work for a better racial future for our school, our city and our nation. UC's Black History Trail was developed as a small group student project in professor Anne Delano Steinert's African American History in Public course in the spring of 2021.
UC Athletics Celebrates Black History Month
Throughout February, UC Athletics will celebrate with a month-long digital storytelling effort on GoBEARCATS.com and the Bearcats social platforms. Student-athletes from all sports will discuss the meaning and importance of this month through social posts and graphics.
Black History is a collection of stories, movements, and accomplishments that have contributed to our country's progress and evolution. CECH proudly acknowledges influential African American students, staff, faculty, alumni, and community partners who made history locally or beyond as we celebrate Black History Month.
Monday, February 28, 2022
Mental Health and Its Effect on Black Women in the Workplace
12:00pm – 1:00 pm
Zoom
Join a virtual open and honest conversation with a panel of Black women across campus as they share their experiences of the current climate of work expectations and its effect on mental health. The experience of Black women in the workplace comes with a host of complexities and issues that differ from other Americans. Black women's double minority status needs to be understood to build inclusive and equitable workplaces. RSVP.
USCA Game Night

5:00pm – 7:00 pm
AACRC, 60 W. Charlton
Celebrate the University of Cincinnati African  Student Association  week with a UC Bearcat basketball game watch party. A game night based on black history trivia is included with music videos.
Black History Month Virtual Closing Ceremony
6:00pm – 8:00 pm
Zoom
Join the AACRC as they virtually reflect on the Black History Month 2022 events. Highlights of the AACRC's BHM programs and photos from various other campus Black history programs will be featured.
More Resources on Black History Month: Focus on  Ketanji Brown Jackson
Although we have reached the end of February and of Black History Month, it's really a lifelong journey of learning and engagement.Our last selected resources will look at Supreme Court Justice nominee Ketanji Brown Jackson. If confirmed, she would be the first Black woman on the United States Supreme Court.
Whitehouse.gov, Supreme Court Nominee Ketanji Brown Jackson
Lexis Litigation Analytics for the Hon. Ketanji Brown Jackson from her time on the D.C. Circuit Court
Westlaw Litigation Analytics for the Hon. Ketanji Brown Jackson from her time on the D.C. Circuit Court
Amy Howe, Profile of a Potential Nominee: Ketanji Brown Jackson, SCOTUS Blog (Feb. 1, 2022)
Empirical SCOTUS, Ketanji Brown Jackson Dataset
Library of Congress, Current Nominee: Congressional Materials
March Is Women's History Month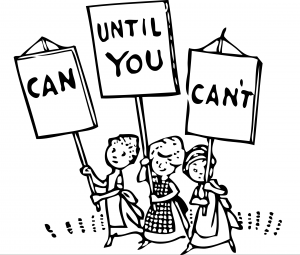 The 2022 Women's History theme is "Providing Healing, Promoting Hope." According to the National Women's History Alliance it "is both a tribute to the ceaseless work of caregivers and frontline workers during this ongoing pandemic and also a recognition of the thousands of ways that women of all cultures have provided both healing and hope throughout history."
Women's History Month had its origins as a national celebration in 1981 when Congress passed Pub. L. 97-28 which authorized and requested the President to proclaim the week beginning March 7, 1982 as "Women's History Week." Throughout the next five years, Congress continued to pass joint resolutions designating a week in March as "Women's History Week." In 1987 after being petitioned by the National Women's History Project, Congress passed Pub. L. 100-9 which designated the month of March 1987 as "Women's History Month." Between 1988 and 1994, Congress passed additional resolutions requesting and authorizing the President to proclaim March of each year as Women's History Month. Since 1995, Presidents Clinton, Bush and Obama have issued a series of annual proclamations designating the month of March as "Women's History Month."
UC College of Law & Campus Events Celebrating Women's History Month
Saturday, Mar. 5, 2022
Lindner Women in Business Empowerment Day
8:00am – 1:25pm
Carl H. Lindner Hall, 2906 Woodside Drive
The keynote speaker is Lisa Sauer, who is a retiree from P&G who spent 32 years in Finance and Product Supply as the Senior Vice President Product Supply, Global Home Care & P&G Professional. The topic for her keynote speech will be about the power of authenticity. We also have breakout speakers who will discuss the following topics as listed; Nichole Sims on Personal Branding, Melissa Newman on Mastering an Interview, and Meghan Cummings on Women's Economic Self Sufficiency. Lastly, our sponsors are P&G, EY, Johnson Investment Council, and DHL who will talk to us about a variety of topics as well. Registration is required.
5 Resources to Learn More about Women's History
This research guide gathers together and updates most of the topical and format-based sections of the online presentation of 456-page print resource guide entitled, American Women: A Library of Congress Guide for the Study of Women's History and Culture in the United States, which was published in December 2001 by the Library of Congress in cooperation with the University Press of New England.
Women attorneys are underrepresented in courtrooms across the United States. Though men and women enter the legal profession in equal numbers, recent research has documented a gender gap among attorneys who appear in trial courts and at the Supreme Court. Yet relatively little work has examined whether, and to what extent, there is a gender disparity among those who argue before federal appellate courts. And even less is known about how this gender disparity has changed over time. The research reported here aims to address both of these questions.
Since 2008, Forster-Long, Inc. and the National Association of Women Judges have partnered to raise awareness of gender representation in American courts. Their annual Gender Ratio Summary, which is a yearly glance at the distribution of male and female judges throughout the United States in both federal and state judiciaries, is profiled for each of the listed years below.
Ohio admitted women to the practice of law before they gave them the right to vote. This article discusses why this might have happened.
Learn more about trailblazing women, especially those in the legal profession, in US history. View short bios and see highlights of women recently honored by the various ABA Goal III Entities, including activists, judges, and other trailblazers.
February & March Arguments at the United States Supreme Court
From SCOTUS Blog:
Monday, February 28, 2022
West Virginia v. Environmental Protection Agency – whether, in 42 U.S.C. § 7411(d), an ancillary provision of the Clean Air Act, Congress constitutionally authorized the Environmental Protection Agency to issue significant rules — including those capable of reshaping the nation's electricity grids and unilaterally decarbonizing virtually any sector of the economy — without any limits on what the agency can require so long as it considers cost, non-air impacts and energy requirements.
Ruan v. United States – whether a physician alleged to have prescribed controlled substances outside the usual course of professional practice may be convicted of unlawful distribution under 21 U.S.C. § 841(a)(1) without regard to whether, in good faith, he "reasonably believed" or "subjectively intended" that his prescriptions fall within that course of professional practice.
Tuesday, March 1, 2022
Marietta Memorial Hospital Employee Health Benefit Plan v. DaVita Inc. – (1) whether a group health plan that provides uniform reimbursement of all dialysis treatments observe the prohibition provided by the Medicare Secondary Payer Act that group health plans may not "take into account" the fact that a plan participant with end stage renal disease is eligible for Medicare benefits; (2) whether a plan that provides the same dialysis benefits to all plan participants, and reimburses dialysis providers uniformly regardless of whether the patient has end stage renal disease, observe the prohibition under the Medicare Secondary Payer Act that a group health plan also may not "differentiate" between individuals with end stage renal disease and others "in the benefits it provides"; and (3) whether the Medicare Secondary Payer Act is a coordination-of-benefits measure designed to protect Medicare, not an anti-discrimination law designed to protect certain providers from alleged disparate impact of uniform treatment.
Wednesday, March 2, 2022
Egbert v. Boule – (1) whether a cause of action exists under Bivens v. Six Unknown Named Agents of Federal Bureau of Narcotics for First Amendment retaliation claims; and (2) whether a cause of action exists under Bivens for claims against federal officers engaged in immigration-related functions for allegedly violating a plaintiff's Fourth Amendment rights.