This week in the Law Library we're celebrating National Library Week! We're also teaching low cost and free legal resources, continuing to highlight our environmental law and justice display, continuing our celebration of Arab American Heritage Month, and previewing United States Supreme Court oral arguments.
National Library Week
It's National Library Week! The theme for National Library Week 2023, "There's More to the Story," promotes the idea that libraries are full of stories in a variety of formats from picture books to large print, audiobooks to ebooks, and more. But there's so much more to the story. Libraries of Things lend items like museum passes, games, musical instruments, and tools. Library programming brings communities together for entertainment, education, and connection through book clubs, storytimes, movie nights, crafting classes, and lectures. Library infrastructure advances communities, providing internet and technology access, literacy skills, and support for businesses, job seekers, and entrepreneurs. National Library Week 2023 will be a great time to tell your library's multi-faceted story. First sponsored in 1958, National Library Week is sponsored by the American Library Association (ALA) and observed in libraries across the country each April. All types of libraries – school, public, academic and special – participate. Follow National Library Week activities at our library, the American Library Association, and I Love Libraries on social media by tracking the hashtags:  #NationalLibraryWeek | #RighttoRead
Right to Read

The Monday of National Library Week – April 24, 2023 – will mark one year since the launch of the Unite Against Book Bans campaign. To honor the occasion, we're calling on readers, advocates, and library lovers to fight back against censorship in a national day of action to defend, protect, and celebrate your right to read freely. We're calling it Right to Read Day.
Nominate a Library Star
National Library Workers Day is observed on the Tuesday of National Library Week, which is on April 25th this year. The day recognizes the importance and contributions of the library staff who keep our libraries running while we get lost in the wonderful books. Libraries are more than a place for borrowing books, they reflect the needs and expectations of our community. And library workers are the ones fulfilling those needs and expectations by making information, books, and resources more accessible. Libraries work because we work! Let's take this time to flood social media (using the hashtag #NLWD23) with words of gratitude for all library workers. Start by nominating library workers as Stars for the ALA-APA Galaxy of Stars. Nominate a stellar library worker!
Take Action for Libraries Day
Library advocates across the country stand united on Take Action for Libraries Day, an annual day of action during National Library Week! From Congress to local library boards, our elected officials need to hear from library supporters at all levels of government. This year on Thursday, April 27, advocates are joining together to tell Congress to protect the freedom to read and stand against censorship.
This Week's Research Sessions
Monday, April 24, 2023
Advanced Legal Research
Legal Technology & Research Instructional Services Librarian, Shannon Kemen & Electronic Resources​  & Instructional Technology Librarian Ron Jones
1:30pm – 2:55pm
Room 107
Tuesday, April 25, 2023
Lawyering II, Advocacy, sec. 4
Shannon Kemen, Legal Technology & Research Instructional Services Librarian
Room 145
9:00am – 10:25am
Low Cost & Free Legal Resources
Lawyering II, Advocacy, sec. 3
Shannon Kemen, Legal Technology & Research Instructional Services Librarian
Room 145
1:30pm – 2:55pm
Low Cost & Free Legal Resources
Law Library Environmental Law & Justice Display

In honor of Earth Day, our April display features items from our collection that highlight environmental justice and energy law. Earth Day was first observed on April 22, 1970, when an estimated 20 million people nationwide attended the inaugural events at tens of thousands of sites including elementary and secondary schools, universities, and communities across the United States. By the twentieth anniversary of the first event, more than 200 million people in 141 countries had participated in Earth Day celebrations. The celebrations continue to grow. Please stop into the Library Services Suite (Room 110) in the next few weeks to view our exhibit, curated by Rhonda Wiseman, spotlighting monographs from our collection that focus on environmental justice and energy law. Feel free to check out materials on display!
Celebrate Arab American Heritage Month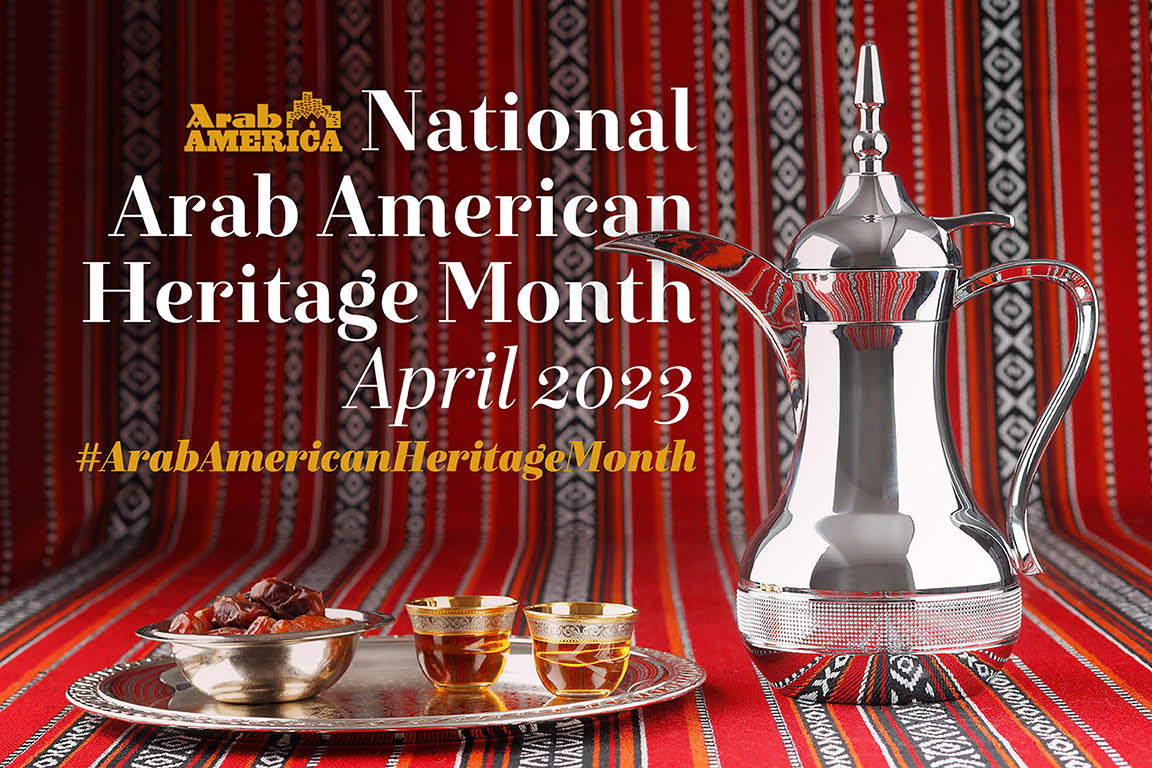 April is National Arab American Heritage Month (NAAHM) and celebrates the heritage, culture, and contributions of Arab Americans. Immigrants with origins from the Arab world have been arriving to the United States since before our country's independence and have contributed to our nation's advancements in science, business, technology, foreign policy, and national security. The Arab American Foundation and Arab America initiated the National Arab American Heritage Month in 2017. States and other organizations began recognizing April as National Arab American Heritage Month and this year President Biden issued an official proclamation.
According to the Arab American Institute, "Today, it is estimated that nearly 3.7 million Americans trace their roots to an Arab country. Arab Americans are found in every state, but more than two thirds of them live in just ten states: California, Michigan, New York, Florida, Texas, New Jersey, Illinois, Ohio, Pennsylvania, and Virginia. Metropolitan Los Angeles, Detroit, and New York are home to one-third of the population." Ohio has one of the fastest growing Arab populations in the country.
Selected Resources to Learn More for Arab American Heritage Month
In previous weeks we looked at databases, media, archives, and books to learn more about Arab Americans. This week we continue to take a look at more books.
This multifaceted study of Syrian immigration to the United States places Syrians- and Arabs more generally-at the center of discussions about race and racial formation from which they have long been marginalized. Between Arab and White focuses on the first wave of Arab immigration and settlement in the United States in the years before World War II, but also continues the story up to the present. It presents an original analysis of the ways in which people mainly from current day Lebanon and Syria-the largest group of Arabic-speaking immigrants before World War II-came to view themselves in racial terms and position themselves within racial hierarchies as part of a broader process of ethnic identity formation.
For most Americans, September 11, 2001, symbolized the moment when their security was altered. For Middle Eastern and Muslim Americans, 9/11 also ushered in a backlash in the form of hate crimes, discrimination, and a string of devastating government initiatives. This book provides the first comprehensive analysis of the impact of the post-9/11 events on Middle Eastern and Muslim Americans as well as their organized response. Through fieldwork and interviews with community leaders, Anny Bakalian and Mehdi Bozorgmehr show how ethnic organizations mobilized to demonstrate their commitment to the United States while defending their rights and distancing themselves from the terrorists.
This book tells the long neglected story of the bint arab―the Arab woman―in the United States. Drawing on primary sources such as club minutes, census records, and dozens of interviews, the book explores the experience of late 19th- and early 20th-century immigrants―mostly Christian peasants from Lebanon and Syria―and their American-born daughters. Later, the book moves on to the well-assimilated granddaughters (many of whom have reidentified with the Arab community and begun to fight its political battles). The work concludes with those women―most of them Muslim―who have emigrated over the last quarter century from many Arab countries, particularly Palestinians.
Bringing the rich terrain of Arab American histories to bear on conceptualizations of race in the United States, this groundbreaking volume fills a critical gap in the field of U.S. racial and ethnic studies. The articles collected here highlight emergent discourses on the distinct ways that race matters to the study of Arab American histories and experiences and asks essential questions. What is the relationship between U.S. imperialism in Arab homelands and anti-Arab racism in the United States? In what ways have the axes of nation, religion, class, and gender intersected with Arab American racial formations? What is the significance of whiteness studies to Arab American studies? Transcending multiculturalist discourses that have simply added on the category "Arab-American" to the landscape of U.S. racial and ethnic studies after the attacks of September 11, 2001, this volume locates September 11 as a turning point, rather than as a beginning, in Arab Americans' histories.
This in-depth yet accessible guide to Islamic immigrants from the Middle East, South Asia, Southeast Asia, and Africa challenges the widely held perception that Islam is monolithic and exclusively Arab in identity and expression. Offering a topical discussion of Islamic issues, the author argues that there is no one immigrant Islam community but a multifaceted and multi-cultural Islamic world. She offers an insider's look at what ideals and practices Muslims bring to this nation, how they see themselves as Americans, and how they get along with each other and with indigenous American Muslims.
April Arguments at the United States Supreme Court
From SCOTUS Blog:
Monday, April 24, 2023
Lac du Flambeau Band of Lake Superior Chippewa Indians v. Coughlin – whether the Bankruptcy Code expresses unequivocally Congress' intent to abrogate the sovereign immunity of Indian tribes.
Dupree v. Younger – whether to preserve the issue for appellate review a party must reassert in a post-trial motion a purely legal issue rejected at summary judgment.
Tuesday, April 25, 2023
Yegiazaryan v. Smagin – whether a foreign plaintiff states a cognizable civil claim under the Racketeer Influenced and Corrupt Organizations Act when it suffers an injury to intangible property, and if so, under what circumstances.
Wednesday, April 26, 2023
Tyler v. Hennepin Cnty. – (1) whether taking and selling a home to satisfy a debt to the government, and keeping the surplus value as a windfall, violates the Fifth Amendment's takings clause; and (2) whether the forfeiture of property worth far more than needed to satisfy a debt, plus interest, penalties, and costs, is a fine within the meaning of the Eighth Amendment.