Research Instruction
Monday, March 9, 2020
Advanced Legal Research

Associate Dean of Library Services & Director of the Law Library Michael Whiteman, Associate Director Susan Boland, and Electronic Resources & Instructional Services Librarian Ron Jones
3:05pm – 4:30pm
Room 100B
Wednesday, March 11, 2020
Advanced Legal Research

Associate Dean of Library Services & Director of the Law Library Michael Whiteman, Associate Director Susan Boland, and Electronic Resources & Instructional Services Librarian Ron Jones
3:05pm – 4:30pm
Room 104
Friday, March 13, 2020
Kaltura training

Legal Technology & Research Instructional Services Librarian Shannon Kemen

12:15pm – 1:30pm
Room 302
Featured Guide
This guide is designed to provide you with resources to help you with oral arguments.
Featured Study Aids
Mastering Appellate Advocacy & Process
Mastering Appellate Advocacy and Process covers the range of appellate procedures in use across the United States, from preserving error below and on appeal, filing the notice of appeal, compiling the record, as well as appealable orders and judgments, proper parties on appeal, and appellate jurisdiction. The book also covers legal analysis, drafting, and advocacy techniques used in preparing appellate briefs, as well as oral advocacy techniques in a discussion that is useful to novices and old hands. Written for practicing lawyers as well as students, the book also includes a chapter devoted to that particular law school exercise known as moot court, identifying how typical moot court competitions are like, and unlike, real world appellate practice.
Available though the Lexis Digital Library (OverDrive) subscription
Successfully Competing in U.S. Moot Court Competitions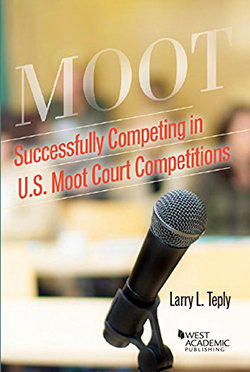 This guide addresses preparatory steps that should be taken prior to entering a moot court competition; recommends methods of analyzing and researching moot court problems; provides advice on how to draft an appellate brief for a moot court competition; sets out suggestions for preparing and delivering an appellate oral argument in a moot court competition; discusses competition logistics; and concludes with advice on keeping moot court competitions in perspective.
Available through the West Academic subscription
Featured Video
12 Tips for Appellate Advocacy
Michael Tigar, listed among the best oral advocates in American history, presents his 12 Ideas on Appellate Advocacy. A seasoned appellate advocate with 100's of representative experiences, Mr. Tigar's advice and reflections are invaluable to anyone interested in oral advocacy. Hosted by the Duke University Moot Court Board.
March Is Women's History Month
The National Women's History Month theme for 2020 is Valiant Women of the Vote. The theme honors the women who fought to win suffrage rights for women, and the women who continue to fight for the voting rights of others.
UC & Cincinnati Law Events Celebrating Women's History Month
All month
Law Library Display: Celebrating Women's History Month:  Valiant Women of the Vote
This month's Law Library display features resources on women's suffrage, with a particular focus on Ohio women. Stay tuned for the Law Library's 100th Anniversary of the 19th Amendment Exhibit which will kick-off on March 24, 2020.
UC Libraries Exhibit
The Walter C. Langsam Library exhibit on the 5th floor of the library celebrates the 100th anniversary of the 19th amendment throughout spring semester. It includes a timeline of the women's suffrage fight starting in 1848 when Elizabeth Cady Stanton and Lucretia Mott organized the first women's rights convention in Seneca Falls, New York. Learn about milestones and setbacks along the way, including after the Civil War when the movement found itself divided over the issue of voting rights for black men, thus resulting in a split in the group fighting for women's suffrage.
Rock the Vote at UC Blue Ash
In honor of Women's HERstory Month at UC Blue Ash, get registered to vote, or just learn about the process. Mondays and Thursdays in March, 12:30-1:30 p.m., Muntz Commons, Bleecker Street Cafe area
UC Blue Ash feminine hygiene product drive
In honor of Women's HERstory Month, UC Blue Ash will be accepting donations of feminine hygiene products (pads, pantyliners, tampons, sanitary cups, etc.). This drive will benefit Girls Health Period and the UC Blue Ash food/supply pantry. It will take place throughout March in the Student Life office, Muntz 123.
UC Law Women and If/When/How Period Week, March 8 – March 14th
Donate name brand pads by the College of Law's 1st floor back entrance to benefit Girls Health Period.
Monday, March 9, 2020
Urgent conversations: Toward an Intersectional History of the 19th Amendment

The Jones Center for Race, Gender, and Social Justice's Urgent Conversations topic is Toward an Intersectional History of the 19th Amendment in acknowledgment of the 100th anniversary of women's suffrage in the United States
4:45pm, room 208
Wednesday, March 11, 2020
Interactive Mystery Event sponsored by UC Law Women and If/When/How

Noon – 1pm between rooms 114 & 118
Thursday, March 12, 2020
Screening of Period. End of Sentence, sponsored by UC Law Women and If/When/How

Learn about how access to period products is a basic human right.
7pm, room 118
Wednesday, March 25, 2020
Sisters-In-Arms Ceremony

Help celebrate UC's Sisters in Arms recognition ceremony for all UC female student veterans. As part of Womens' History Month in March, six women are honored each year for their accomplishments in and out of the classroom with the 2020 Rosa Sanders-Moore Award.
6pm, Tangeman University Center Atrium
Thursday, March 26, 2020
Transgender Inclusive Training Session

In honor of Women's HERstory Month, join a UC Blue Ash campuswide, all-inclusive transgender training session open to all students, faculty and staff. The event is facilitated by students under the expert tutelage of UC Blue Ash professor J.A. Carter.
11am-12:20pm, UC Blue Ash, Muntz 119