This week we're teaching Administrative Law and Advanced Legal Research, reminding you about resources to help you prepare for oral arguments, featuring resources on women and the law, continuing our celebration of Women's History Month, and looking at this week's US Supreme Court and Ohio Supreme Court oral arguments.
The Robert S. Marx Law Library Is Hiring an Instructional & Reference Services Librarian
The Robert S. Marx Law Library at the University of Cincinnati College of Law invites applications for the position of Instructional & Reference Services Librarian. As an integral part of the College of Law, the Library helps prepare law students for legal practice and supports faculty scholarship and teaching. The Instructional & Reference Services Librarian reports to the Associate Director of the Law Library. View more information at jobs.uc.edu #80923.
This Week's Research Sessions
Monday, Mar. 28, 2022
Advanced Legal Research
Legal Technology & Research Instructional Services Librarian, Shannon Kemen & Electronic Resources​  & Instructional Technology Librarian Ron Jones
1:30pm – 2:55pm
Room 100A
Wednesday, Mar. 30, 2022
Advocacy, Sec. 2
Associate Director Susan Boland
Introduction to Administrative Law
10:40am – 12:05pm
Room 302
Advanced Legal Research
Legal Technology & Research Instructional Services Librarian, Shannon Kemen & Electronic Resources​  & Instructional Technology Librarian Ron Jones
1:30pm – 2:55pm
Room 100A
Thursday, Mar. 31, 2022
Advocacy, Sec. 4
Associate Director Susan Boland
Introduction to Administrative Law
10:40am – 12:05pm
Room 100B
Oral Argument Help
As you get ready for oral arguments in your Advocacy class, be sure and check out the resources on our Oral Advocacy Guide and last week's featured resources!
Featured Study Aids
Available via the West Academic Study Aid subscription, this book examines landmark cases establishing women's legal rights, offering accounts of the litigants, history, parties, strategies, and theoretical implications. It utilizes subject areas common to many women and law casebooks: history, constitutional law, reproductive freedom, the workplace, the family, and women in the legal profession. Several chapters explore issues of domestic violence and rape.
Available via the LexisNexis Digital Library, we're highlighting this text for Women's History month because it deals with the issues that women face in the wo9rkplace. This text covers the major sources of employment discrimination law, including the Constitution, the Civil Rights Acts, The equal Pay Act, and more. Although the scope and application of the Supreme Court's recent watershed decisions remain to be worked out in the lower courts, this book's discussion of these cases will provide the student and practitioner alike with a point-of-departure for following the development of the law in these areas.
Available via the Aspen Learning Library, this book addresses the realities of law firm practice, especially in large firms, and gives pre-law students, law students, and new attorneys a realistic view of the opportunities and challenges most often encountered by women lawyers. Drawing on her many years of practicing law and mentoring young lawyers and with the help of other women in all areas of the legal profession— her "best friends at the bar"— Susan Smith Blakely strives to help young women entering the legal profession begin their careers with open eyes and a more level playing field than women lawyers of past generations.
Featured Guide
This guide provides a quick overview of general and law materials. It covers browsing for materials by call number range, using encyclopedias for background research and how to locate articles, textbooks, treatises, statutory law, administrative materials, agency publications, legislative histories and websites of interest. The guide can be used by students, faculty members, lawyers, and the general public.
Featured Treatise
Available on Cambridge Core,in The Common Law Inside the Female Body, Anita Bernstein explains why lawyers seeking gender progress from primary legal materials should start with the common law. Despite its reputation for supporting conservatism and inequality, today's common law shares important commitments with feminism, namely in precepts and doctrines that strengthen the freedom of individuals and from there the struggle against the subjugation of women. By re-invigorating both the common law – with a focus on crimes, contracts, torts, and property – and feminist jurisprudence, this highly original work anticipates a vital future for a pair of venerable jurisprudential traditions. It should be read by anyone interested in understanding how the common law delivers an extraordinary degree of liberty and security to all persons – women included.
Featured Database
Available on HeinOnline, Women and the Law (Peggy) is a collection that brings together books, biographies, and periodicals dedicated to the role of women in society and the law. It provides a convenient platform for users to research the progression of women's roles and rights in society over the past 200 years.
Featured Website
The website is the home of a searchable database of articles and papers on pioneering women lawyers in the United States. Also located here are the Indexes and Bibliographic Notes for Barbara Babcock, "Woman Lawyer: The Trials of Clara Foltz." (Stanford University Press, 2011).
Featured Video
Now more than ever, it's important to look boldly at the reality of race and gender bias — and understand how the two can combine to create even more harm. Kimberlé Crenshaw uses the term "intersectionality" to describe this phenomenon; as she says, if you're standing in the path of multiple forms of exclusion, you're likely to get hit by both. In this moving talk, she calls on us to bear witness to this reality and speak up for victims of prejudice.
March Is Women's History Month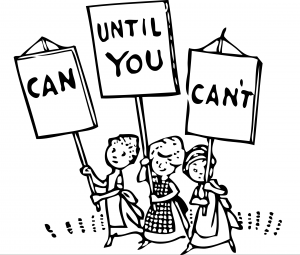 The 2022 Women's History theme is "Providing Healing, Promoting Hope." According to the National Women's History Alliance it "is both a tribute to the ceaseless work of caregivers and frontline workers during this ongoing pandemic and also a recognition of the thousands of ways that women of all cultures have provided both healing and hope throughout history."
UC College of Law & Campus Events Celebrating Women's History Month
All Month
UC Libraries Celebrates Women's History Month

Women's History Display at UCBA Library
Women's History Month at the UCBA Library – For the month of March, the UCBA Library is featuring a multi-disciplinary selection of books highlighting the global contributions of women as part of Women's History Month. These featured books are located on a table near the Library's Information Desk.
UC Libraries Research Guide of resources in Women, Gender & Sexuality Studies
UC Libraries Women of the Movement: Leaders for Civil Rights and Voting Rights – In celebration of Women's History Month, revisit the exhibit Women of the Movement: Leaders for Civil Rights and Voting Rights, profiling leaders from Sojourner Truth to Marian Spencer. A bibliography of library resources to learn more is included.
UC Libraries Margaret Armstrong Exhibit – In celebration of Women's History Month, visit this exhibit featuring the work of Margaret Armstrong, considered on of the most influential book cover designers of the late 19th and early 20th centuries.
UC Athletics Celebrates Women's History Month
Throughout March, UC Athletics will celebrate with a month-long digital storytelling effort on GoBEARCATS.com and the Bearcats social platforms. Student-athletes from all sports will discuss the meaning and importance of this month through social posts and graphics.
Tuesday, March 29, 2022
6th Annual Black Feminist Symposium: Resignation as Resistance: Reclaiming Our Time
8:00am – 3:00pm
TUC
The University of Cincinnati and UC Women's Center presents our 6th annual Black Feminist Symposium! The Black Feminist Symposium is dedicated to celebrating Black feminist scholarship and uplifting voices, forums, panels, and lectures that are led by students, staff, faculty, and community members. The Black Feminist Symposium works to unite Black feminist work being done at UC and in the greater Southwest Ohio and Northern Kentucky communities. This event is FREE and open to the public. Attendees are welcome to drop in, attend workshops, panels and presentations by UC students, faculty, and staff, listen to our incredible keynote speaker and other performers, and network throughout the day. Individuals of all races, gender identities, and backgrounds are welcome to attend. Registration is required.
Black Feminist Symposium Keynote Speaker: Tamara Winfrey-Harris
6:00pm – 7:00pm
TUC Great Hall
Tamara Winfrey-Harris is a writer who specializes in the ever-evolving space where current events, politics, and pop culture intersect with race and gender. She is the author of Dear Black Girl and The Sister Are Alright, both available for purchase in the UC Bookstore un TUC. Winfrey-Harris' writing can be found in The New York Times, The Atlantic, Cosmopolitan, New York Magazine, and The Los Angeles Times. Ms. Winfrey-Harris will sign books following her talk. This event is FREE and open to the public. Registration is required.
Wednesday, March 30, 2022
Trans Day of Visibility
This marks the 13th annual International Transgender Day of Visibility (TDoV). The day aims to celebrate the resilience and success of transgender people and raise awareness of trans+ rights.
Activism Lunch & Learn: Earth Activism
12:00pm – 1:00pm
Steger 571
Join the UC Women's Center for our monthly Lunch and Learn – food, conversation, and connection! This is the third in our activism series, and we'll talk about Intersectional Activism with Graduate Assistant and WGSS Master's student Sakina Jarmon, plus others. Lunch provided from Chipotle (free, with inclusive dietary options). Event details on CampusLINK.
Latinx and Indigenous Women's STEM History Trivia Night
4:00pm – 6:00pm
Swift 608
Join Cincy SACNAS and the UC Women's Center as we have a fun game of Kahoot-style trivia focused on the history and contributions of notable Latinx and Indigenous women to STEM! Feel free to also come to learn about the missions of both Cincy SACNAS and the UC Women's Center before the trivia night begins! Registration
The Death and Life of Marsha P. Johnson: a Women's History Month Film Screening
6:00pm – 8:30pm
TUC Cinema
Join the D&I Committee for a free screening of the 2017 Documentary, The Death and Life of Marsha P. Johnson! The screening will be followed by a discussion. Snacks will be provided! Event RSVP
Friday, April 1, 2022
Our Stories: A Discussion With Afghan Women
3:00 – 5:00 pm
Room 114 or virtual
The Urban Morgan Institute and the International Law Society will host this panel of Afghan women discussing growing up in Afghanistan and the current situation facing women today.
5 More Resources to Learn More about Women's History
This week we will continue our focus on research databases that are useful for learning more about women's history.
The Family & Society Studies Worldwide Database (FSSWD) includes the discontinued Inventory of Marriage and Family (produced by the National Council on Family Relations), the Australian Family & Society Abstracts¸ the National Clearinghouse on Family Violence, Health Canada and the U.S. Military Family Resource Center Documents Database. FSSWD includes nearly 600¸000 records representing professional journals, books, popular literature, conference papers, internet documents, government reports, videos, pamphlets and even unpublished material such as poster sessions and statistical documents. Subjects covered include: families and family therapy, marriage, gender roles, aging, divorce, minorities and demography. Many of the records are linked to full text.
Coverage: 1970 – present
Gender Studies Database¸ produced by NISC, combines NISC's popular Women's Studies International and Men's Studies databases with the coverage of sexual diversity issues. GSD covers the full spectrum of gender-engaged scholarship inside and outside academia. This database includes more than 696¸750 records with coverage spanning from 1972 and earlier to present.
Coverage: 1972 – present
The database includes 615 full text titles covering all areas of sociology, including social behavior, human tendencies, interaction, relationships, community development, culture and social structure.
Women's Studies International covers the core disciplines in Women's Studies to the latest scholarship in feminist research. Nearly 800 essential sources include: journals, newspapers, newsletters, bulletins, books, book chapters, proceedings, reports, theses, dissertations, NGO studies, Web sites & Web documents, and grey literature. Women's Studies International supports curriculum development in the areas of sociology, history, political science & economy, public policy, international relations, arts & humanities, business and education. Coverage: 1972 – present
Women and Social Movements, International is a landmark collection of primary materials. Through the writings of women activists, their personal letters and diaries, proceedings of conferences at which pivotal decisions were made, reports of international women's organizations, and publications and web pages of women's non-governmental organizations, and letters, diaries, and memoirs of women active internationally since the mid-nineteenth century, this collection lets you see how women's social movements shaped much of the events and attitudes that have defined modern life. Supported by the Charles Phelps Taft Research Center. Coverage:1840-present