This week in the Law Library we're teaching first year students Administrative Law research, exploring resources for law student mental health, looking at resources for the Week Against Mass Incarceration, and continuing to celebrate Women's History Month.
This Week's Research Sessions
Monday, March 6, 2023
Advanced Legal Research
Legal Technology & Research Instructional Services Librarian, Shannon Kemen & Electronic Resources​  & Instructional Technology Librarian Ron Jones
1:30pm – 2:55pm
Room 107
Wednesday, March 8, 2023
Law School Competencies Information Table

Laura Dixon-Caldwell, Instructional & Reference Services Librarian & Shannon Kemen, Legal Technology & Research Instructional Services Librarian
Atrium Table
8:30 – 9:00am
Learn about how you can participate in the law school research and technology competencies! University of Cincinnati Law students who complete the requirements of the Competency programs before graduation will receive a notation on their transcript stating that they are competent with respect to legal research and/or technology, a credential they can list proudly on their resumes as proof of the research skills they offer prospective employers.
Lawyering II, Advocacy, section 1
Instructional & Reference Services Librarian Laura Dixon-Caldwell
Introduction to Administrative Law
1:30pm – 2:55pm
Room 145
Advanced Legal Research
Legal Technology & Research Instructional Services Librarian, Shannon Kemen & Electronic Resources​  & Instructional Technology Librarian Ron Jones
1:30pm – 2:55pm
Room 107
Featured Study Aids
Available via the Aspen Learning Library, this text candidly speaks to the issues women face in law firm practice and provides invaluable advice for planning enduring and satisfying careers in the law. It critically addresses business, cultural, and personal conditions and offers strategies for dealing with them, including how to manage expectations in the context of actual job conditions and the dynamics of personal/professional life struggles.
Available through the West Academic study aid subscription, this book provides a foundation for students from marginalized groups to recognize and manage both subtle and explicit barriers that can impede their progress.
Available through the LexisNexis Digital Library study aid subscription, this book details how to put the principles of Zen into practice in order to maximize your ability to have a successful law school career. Zen is about simplicity, balance, knowing your universe, knowing yourself, and staying focused on the path to enlightenment. Similarly, these principles should be the foundation for success in law school.
Featured Guide
Law school and the legal profession can be stressful! This guide will provide resources to help you through the tough times.
Featured Treatise
This text teaches students how to approach law school on their own terms: how to tune out the drumbeat of oppressive expectations and conventional wisdom to create a new breed of law school experience altogether. The author provides readers with practical tools for finding focus, happiness, and a sense of purpose while facing the seemingly endless onslaught of problems law school presents daily.
Featured Database
Available on Bloomberg Law, includes documents from Bloomberg Law's Practical Guidance collection that relate to managing employee rights and needs, including the needs of lawyers seeking assistance with well-being. After two 2016 studies set off alarm bells on the mental health of the legal profession, a small group of lawyers formed a national task force and started a movement to improve the health and well-being of the legal profession. As a result of this movement, there is an increasing amount of resources available for law students, lawyers, and judges who want help dealing with issues ranging from ways to cope with stress to substance use disorders.
Featured Website
In August 2017, the National Task Force on Lawyer Well-Being published a comprehensive report titled The Path to Lawyer Well-Being: Practical Recommendations for Positive Change. The release of the report resulted in a national movement among stakeholders in the legal profession to take action to improve well-being. In December 2020, the Institute for Well-Being in Law (IWIL) was formed to carry on the movement launched by the National Task Force. IWIL is dedicated to the betterment of the legal profession by focusing on a holistic approach to well-being. Through advocacy, research, education, technical and resource support, and stakeholders' partnerships, it is driven to lead a culture shift in law to establish health and well-being as core centerpieces of professional success.
Featured Videos
Anne Brafford (www.aspire.legal) created the Lawyer Well-Being Channel to support Lawyer Well-Being Week, which is an annual event for which Anne led the launch in 2020. The week is dedicated to heightened attention to the well-being needs of lawyers and to the growing "lawyer well-being movement." While Lawyer Well-Being Week lasts only a handful of days each year, resources will be available year-round to aid lawyers and their support teams in their efforts to boost health and happiness.
Law Student Mental Health Week
March 6-10, 2023 is Law Student Mental Health Week at UC Law! Follow the UC Law Student Affairs Twitter page and join the College Wellness Facebook group page for regular posts on wellness events and self-care. Share your well-being activities with #LawStudentWellness and #BeWellUCLaw.
Law Library Display: Law Student Mental Health Week
Stop by our display for Law Student Mental Health Week. Check out one of the featured resources or explore more resources through our Resiliency & Wellness for Law Students & Lawyers Guide. Play a game, color, or put together a puzzle to relax.
UC Law & Campus Wellness Events
Monday, March 6, 2023
Let's Talk
1:00 p.m. – 3:00 p.m.
Room 210E
In person counseling with Dr. Shane Gibbons of CAPS. Let's Talk is a free, 100% confidential conversation where you can ask questions, learn about mental health resources, and get support from a UC CAPS therapist.
Yoga
5:00 p.m. – 6:00 p.m.
Student Wellness Center (Steger 480)
Join the Student Wellness Center for restorative yoga on Mondays at 5:00pm. Bring your own mat. All levels of experience are welcome.
Tuesday, March 7, 2023
Tea Time
1:00 p.m. – 3:00 p.m.
Student Wellness Center (Steger 480)
Looking for a space to relax, rewind, and rejuvenate? Need a little break in the middle of the before you tackle your afternoon? Come in at the Student Wellness Center for an afternoon Tea Time! Come in for a free cup of tea on on a Tuesday afternoon every month! A variety of teas will be available for free for students. Enjoy a warm cup of tea, listen to music, meet a new friend, color, play a game- the possibilities are endless!
Purim Holiday Celebration
4:00 p.m. – 7:00 p.m.
Multicultural Resource Center
Join the Jewish Law Students Association and the Board Game Society for a game night celebration in honor of Purim. There will be prizes and food.
Bearcats Recovery Community
6:00 p.m. – 7:00 p.m.
Arts & Sciences Building Room 211
The Bearcats Recovery Community is a program designed to support UC students in or seeking recovery from alcohol, drugs and other addictions. The BRC and its programs allow students to have an authentic college experience at UC while maintaining their recovery. Weekly hybrid in-person and virtual peer-led support meetings are every Tuesday from 6-7 pm in the Arts & Sciences Building room 211.
Wednesday, March 8, 2023
Wellness Wednesday Lunch Break
12:15 p.m. – 1:15 p.m.
Atrium
Stop by to grab a sweet treat and unwind with some activities brought to you by the Office of Student Affairs and the Board Game Society.
Thursday, March 9, 2023
Interfaith Sabbath Rest Panel
12:15 p.m. – 1:15 p.m.
Room 130
Join the Christian Legal Society, Jewish Law Students Association, and the Muslim Lawyers Society for a joint panel discussion on the importance of weekly rest.
Yoga at the Rec with Birdies
4:00 p.m.
UC Rec Center
The Student Safety Board is hosting a yoga event at UC's Rec center. Make sure to RSVP if you would like to join the class because of limited space and a free birdie alarm!
Ice Cream & Chill
6:30 p.m. – 8:30 p.m.
Room 135
Join Phi Alpha Delta and the Board Game Society for a chill evening.
View Wellness Resources
Resiliency & Wellness for Law Students & Lawyers — Robert S. Marx Law Library guide
Wellness Week Law Student Intranet (requires UC authentication)
ABA Commission on Lawyer Assistance Programs Mental Health Awareness Resources
Week Against Mass Incarceration
For the 2023 Week Against Mass Incarceration (March 6 – March 10), the National Lawyer's Guild Law Schools have decided to organize around the theme "Building Alternatives to Prisons, Jails, and Policing" to explore what a world without the current mass incarceration systems would look like and how to get there.
UC College of Law Events
NLG Presents Chazidy Bowman
12:10 p.m.
Room 235
Please join us for a lunch conversation with Chazidy Bowman, a local community activist and the President and Founder of Ohio Prisoners Justice League and Operation Change Cincy. Ms. Bowman diligently fights for the humane treatment and rights of those incarcerated.
Selected Resources on Alternatives to Prisons, Jails, and Policing

NLG Webinar, Implementing Abolition: How to Create Just & Lasting Decarceration (Apr. 9, 2019)
Webinar faculty talk about how to seize opportunities to close facilities in ways that don't lead to new ones opening, eliminate criminal laws in ways that don't just help the privileged, and get people out in ways that don't demonize those still inside.
NLG Resolution Supporting the Abolition of Prisons
Following the National Lawyers Guild Law for the People Convention in October 2015, NLG membership adopted a resolution calling for "the dismantling and abolition of all prisons and of all aspects of systems and institutions that support, condone, create, fill, or protect prisons."
Prison Abolition Syllabus (Guided Resource List, 2016)
S. Rebecca Neusteter et al., Gatekeepers: The Role of Police in Ending Mass Incarceration (Aug. 2019)
This report explores the factors driving mass enforcement, particularly of low-level offenses; what police agencies could do instead with the right community investment,
national and local leadership, and officer training, incentives, and support; and policies that could shift the policing paradigm away from the reflexive use of enforcement, which unnecessarily criminalizes people and leads directly to the jailhouse door.
March Is Women's History Month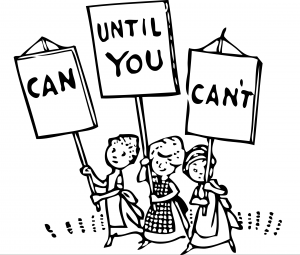 The 2023 Women's History theme is "Celebrating Women Who Tell Our Stories." According to the National Women's History Alliance, "Women have long been instrumental in passing on our heritage in word and in print to communicate the lessons of those who came before us. Women's stories, and the larger human story, expand our understanding and strengthen our connections with each other."
UC College of Law & Campus Events Celebrating Women's History Month
Law Library Women's History Month Display
This month is Women's History Month and the Law Library will be celebrating all month with our display, candy trivia, and blog postings. View our exhibit, curated by Library Specialist Rhonda Wiseman, spotlighting monographs from our collection that focus on the history and journey of women's rights and women's contributions to the legal community and beyond.
This year's selections highlight the 2023 theme for Women's History Month – "Celebrating Women Who Tell Our Stories." These books, focusing on women from all forms of media, along with others are located near the Library's Information Desk. The print and virtual displays are available until March 31, 2023.

Ever since Winona Lee Hawthorne became the first female to earn a degree from the University of Cincinnati in 1878, women have built an impressive legacy as Bearcat students and alumnae. Today, women constitute the majority of each graduating class, and their achievements continue to elevate the institution, their communities and their chosen fields. For these reasons, the UC Alumni Association proudly marks Women's History Month — celebrating the excellence of the past and present while eagerly anticipating the greatness that lies ahead.
Throughout March, UC Athletics will celebrate with a month-long digital storytelling effort on GoBEARCATS.com and the Bearcats social platforms. Student-athletes from all sports will discuss the meaning and importance of this month through social posts and graphics.
Tuesday, March 7, 2023
"Southwest of Salem" Film Screening & Q&A
5:15 p.m. – 8:00 p.m.
College of Law Room 160
After being wrongfully convicted of gang-raping two little girls during the Satanic Panic witch hunt of the 80s and 90s, four Latina lesbians fight against mythology, homophobia, and prosecutorial fervor. Experience the award-winning documentary followed by a Q&A with Anna Vasquez, one of the exonerees featured in the film. Doors open at 5:15pm, screening starts at 5:30pm. Light refreshments will be served. Hosted by The Nathaniel R. Jones Center for Race, Gender, and Social Justice and the Ohio Innocence Project.
"Race and Racism in Cincinnati" Film Screening
6:30 p.m. – 8:30 p.m.
TUC Cinema (TUC 415 for discussion following the film)
View the Intercommunity Justice & Peace Center's "Race and Racism in Cincinnati" film series. The three-part docuseries tells the story of Cincinnati's history from the racial margins — a history that is not often told in school curriculums or in mainstream white culture. All three parts explore how race and racism shaped Cincinnati from its inception to the present day, placing the storytelling authority in the hands of common people, rather than the people who hold power. Films are free for UC students, faculty and staff. Registration in CampusLink is required. Tuesday's film is "Early History." Sponsored by the Center for Community Engagement; Nathaniel R. Jones Center for Race, Gender, and Social Justice; and the Center for Truth Racial Healing & Transformation.
Wednesday, March 8, 2023
UC Women's Center Woman of the Year Award
In honor of International Women's History Day on March 8, UC Women's Center will open nominations for the Woman of the Year award — honoring a faculty or staff member who consistently works to improve the lives of students and shows a commitment to gender equity while advocating for women and gender minorities. Only UC students can submit nominations, which will be open during the second week in March on the UC Women's Center CampusLINK page.
CBA YLS Diversity and Inclusion Committee Women's History Month Fireside Chat: Celebrating Women Who Tell Their Stories
12:00 pm
Room 170 (or virtual).
The Diversity and Inclusion Committee of the Young Lawyers Section of the Cincinnati Bar Association and UC Women in Law invite you for a lunchtime chat in celebration of Women's History Month and International Women's Day. Guest speakers include Faith Whitaker, Partner at Dinsmore & Shohl, Kate Christoff, Director of Legal Talent and Diversity at KMK, Melissa Watt, Attorney at Faruki PLL and Phenise Poole, Deputy General Counsel and Senior VP at Fifth Third Bank.
International Women's Day at UCBA
12:20 p.m. – 1:30 p.m.
UCBA Muntz Hall 119 auditorium
Come celebrate with these amazing women from our community and hear how they have set a trend in their industries and why it is important to embrace equity. This panel, moderated by Dr. Lizzie Ngwenya-Scoburgh, associate professor of business and economics at UC Blue Ash, will feature: Sriparna Ghosh, PhD, Assistant Professor of Economics at UCBA, Bridget Harris, President, BTH Construction Delivery, Major Jackie Reed, Hamilton County Sheriff's office. A light lunch will be served and door prizes awarded! RSVP
Thursday, March 9, 2023
Cookies for Consent
11:00 a.m.
Outside TUC
Starting at 11am It's On Us will be handing out free Cookies for Consent outside TUC. Come say hi and take a stand for consent culture at the University of Cincinnati. There will also be stickers, an opportunity to the a pledge, and join our organization! All students are welcome!
Women's History Month Cinema: The Woman King
12:30 p.m. – 3:00 p.m.
UCBA Muntz Hall 119 auditorium (119) and lobby area
To celebrate Women's History Month at UCBA, please join us for a free screening of "The Woman King," hosted by TRIO SSS, Sister Circle, and Men of Color Collaborative. This event will be held in the Muntz auditorium (119) and lobby area on March 9th starting at 12:30 pm. Refreshments will be served; you can also bring canned goods or non-perishable items to donate in support of Women's History Month. "The Woman King" is the remarkable story of the Agojie, the all-female unit of warriors who protected the African Kingdom of Dahomey in the 1800s with skills and a fierceness unlike anything the world has ever seen. Inspired by true events, "The Woman King" follows the emotionally epic journey of General Nanisca (Oscar®-winner Viola Davis) as she trains the next generation of recruits and readies them for battle against an enemy determined to destroy their way of life.
5 Resources to Learn More about Women's History
Learn more about trailblazing women, especially those in the legal profession, in US history. View short bios and see highlights of women recently honored by the various ABA Goal III Entities, including activists, judges, and other trailblazers.
The ABA Commission on Women in the Profession created the Grit Project "to educate women lawyers about the science behind grit and growth mindset – two important traits that many successful women lawyers have in common." Grit and growth mindset, in turn, help to build resilience and confidence. When combined with a sense of purpose, authenticity and community, these traits help to keep women in the profession – even while we work to address the larger systemic challenges that threaten to deplete the number of women practicing law. The 21 Day Grit and Growth Mindset Challenge was created to help you develop and enhance your grit and growth mindset by consistently engaging in short, daily challenges: reading thought provoking articles, watching videos, reviewing case studies, and taking concrete, habit-forming actions. Do them on your own, or form a Grit Group to unpack the challenges and learnings together.
Walking out the Door was the first report to be released from the ABA's Initiative on Long-Term Careers for Women. The report addresses why senior women are far more likely than men to leave the practice of law. Learn why experienced women lawyers leave Big Law and what legal institutions can do to keep them.
Left Out and Left Behind, the second report released from the ABA's Initiative on Long-Term Careers for Women, fills a critical gap, offering empirical data and thoughtful discussion about what it means to be a woman lawyer of color — the general experience of practicing law; how work, family, and personal dynamics influence career trajectories; the barriers that women of color confront not simply on an occasional basis but through-out their careers, even after achieving a level of success; and the factors that either drive women of color out of the profession or encourage them to stay.
In Their Own Words the third report released from the ABA's Initiative on Long-Term Careers for Women, reveals the experiences that lead women lawyers to leave private practice. Based on their stories, the report offers recommendations for legal employers to improve the law firm environment for them. This report provides valuable insight in to the issues and dynamics that lead to women's attrition.