This week we're back from spring break and looking at Ohio Legal Research, exploring resources for the MPRE, continuing to celebrate Women's History Month, and previewing Ohio and U.S. Supreme Court oral arguments.
This Week's Research Sessions
Monday, March 20, 2023
Advanced Legal Research
Legal Technology & Research Instructional Services Librarian, Shannon Kemen & Electronic Resources​  & Instructional Technology Librarian Ron Jones
1:30pm – 2:55pm
Room 107
Wednesday, March 22, 2023
Law School Competencies Information Table

Laura Dixon-Caldwell, Instructional & Reference Services Librarian & Shannon Kemen, Legal Technology & Research Instructional Services Librarian
Atrium Table
8:30 – 9:00am
Learn about how you can participate in the law school research and technology competencies! University of Cincinnati Law students who complete the requirements of the Competency programs before graduation will receive a notation on their transcript stating that they are competent with respect to legal research and/or technology, a credential they can list proudly on their resumes as proof of the research skills they offer prospective employers.
Advanced Legal Research
Legal Technology & Research Instructional Services Librarian, Shannon Kemen & Electronic Resources​  & Instructional Technology Librarian Ron Jones
1:30pm – 2:55pm
Room 107
Thursday, March 23, 2023
Legal Research Competency Live Program
Room 245
12:15-1:15pm
Laura Dixon-Caldwell, Instructional & Reference Services Librarian
Spotlight on Ohio Legal Research
Pizza available while supplies last. For a gluten free option RSVP to shannon.kemen@uc.edu.
Featured Study Aids
Available via the West Academic Study Aid subscription, Acing Professional Responsibility provides a dual benefit to law students who, to become licensed lawyers, have to pass both a law school exam in a Legal Ethics course as well as the Multistate Professional Responsibility Examination (MPRE). To prepare for the law school examination, there are pages of text, numerous outlines, bullet points, sample essay questions and answers, and mini-checklists to learn the basics and fine points of Professional Responsibility. The Acing book also enables students to quickly recall and pass the MPRE.
CALI currently offers many interactive exercises for Ethics and Professional Responsibility. You will need to set up a password to use CALI online. To set up a username and password, you will be asked to enter UC Law's authorization code. You can get this code from any reference librarian or at the Circulation Desk.
Available via the Aspen Learning Library, this text covers the whole field of professional responsibility, focusing not only on the ABA Model Rules, but on the often-complex relationship between the rules and doctrines of agency, tort, contract, evidence, and constitutional law. Beginning with the formation of the attorney-client relationship, the book proceeds through topics including attorneys' fees, malpractice and ineffective assistance of counsel, confidentiality and privilege rules, conflicts of interest, witness perjury and litigation misconduct, advertising and solicitation, admission to practice, and the organization of the legal profession. Coverage includes all subjects that are tested on the Multistate Professional Responsibility Exam (MPRE), including: A chapter on judicial ethics, a subject tested on the MPRE and not often covered thoroughly, if at all, in law school professional responsibility courses. Updated discussion and examples based on recent developments in the law, including the ABA's simplification of the rules on advertising and solicitation, new Model Rule 8.4(g) on discrimination in the practice of law, the California Supreme Court's Sheppard Mullin opinion on advance waivers of conflicts, and continuing developments in the impact of technology on the practice of law. A series of problems at the end of each section or chapter assist you in testing your understanding. Answers are provided for these problems.
Available via the LexisNexis Digital Library, Q&A books consist of multiple choice and short answer questions with detailed explanations of the answers. This study guide includes 160 multiple-choice and short-answer questions arranged topically for ease of use during the semester, plus an additional set of 48 questions comprising a comprehensive "practice exam."
Featured Guide
The Multistate Professional Responsibility Examination (MPRE) is a 60-question, two-hour-and-five-minute, multiple-choice examination administered three times each year. It is required for admission to the bars of all but four U.S. jurisdictions (Ohio is a jurisdiction that requires it). This guide provides you with Law Library resources that will help you prepare for the MPRE.

Featured Treatise
Available on Westlaw, The Annotated Model Rules of Professional Conduct is the ABA's definitive single-volume resource for information about how courts, disciplinary bodies, and ethics committees apply the lawyer ethics rules.
Featured Database
Available on Bloomberg Law, the Lawyers' Manual's mission is to provide authoritative guidance on professional responsibility law and malpractice to all practitioners. The publication offers over 130 chapters of in-depth analysis; full text of ABA ethics opinions, Model Rules, and Standards; summaries of ethics opinions issued by more than 60 state and local jurisdictions; and a current developments component providing the latest news and analysis of issues in the field of legal ethics.
Featured Website

A series of posts by Scot Goins, Director of Academic Achievement and Bar Success at Atlanta's John Marshall Law School. After this introductory post, Part 1, reviews what the MPRE is and what score is required for your jurisdiction. Part 2, breaksdown the different areas of professional responsibility that are tested on the exam, in order to help you understand where to spend the majority of your study time. Part 3 discusses resources for your MPRE preparation, including free MPRE courses. Finally, Part 4 reviews an appropriate timeline and review strategies for your studies (although individuals vary a great deal, so you may have to adjust your timeline according to your own progress).
Featured Video
This video illustrates how to find ethics rules and opinions in a variety of sources. It is 4:56 minutes long and is closed captioned and features a table of contents.
March Is Women's History Month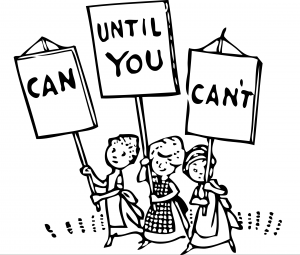 The 2023 Women's History theme is "Celebrating Women Who Tell Our Stories." According to the National Women's History Alliance, "Women have long been instrumental in passing on our heritage in word and in print to communicate the lessons of those who came before us. Women's stories, and the larger human story, expand our understanding and strengthen our connections with each other."
UC College of Law & Campus Events Celebrating Women's History Month
Law Library Women's History Month Display
This month is Women's History Month and the Law Library will be celebrating all month with our display, candy trivia, and blog postings. View our exhibit, curated by Library Specialist Rhonda Wiseman, spotlighting monographs from our collection that focus on the history and journey of women's rights and women's contributions to the legal community and beyond.
This year's selections highlight the 2023 theme for Women's History Month – "Celebrating Women Who Tell Our Stories." These books, focusing on women from all forms of media, along with others are located near the Library's Information Desk. The print and virtual displays are available until March 31, 2023.

Highlights this year's faculty and student nominees.
Ever since Winona Lee Hawthorne became the first female to earn a degree from the University of Cincinnati in 1878, women have built an impressive legacy as Bearcat students and alumnae. Today, women constitute the majority of each graduating class, and their achievements continue to elevate the institution, their communities and their chosen fields. For these reasons, the UC Alumni Association proudly marks Women's History Month — celebrating the excellence of the past and present while eagerly anticipating the greatness that lies ahead.
Throughout March, UC Athletics will celebrate with a month-long digital storytelling effort on GoBEARCATS.com and the Bearcats social platforms. Student-athletes from all sports will discuss the meaning and importance of this month through social posts and graphics.
Monday, March 20, 2023
"Race and Racism in Cincinnati" Film Screening
6:30 p.m. – 8:30 p.m.
TUC Cinema (TUC 415 for discussion following the film)
View the Intercommunity Justice & Peace Center's "Race and Racism in Cincinnati" film series. The three-part docuseries tells the story of Cincinnati's history from the racial margins — a history that is not often told in school curriculums or in mainstream white culture. All three parts explore how race and racism shaped Cincinnati from its inception to the present day, placing the storytelling authority in the hands of common people, rather than the people who hold power. Films are free for UC students, faculty and staff. Registration in CampusLink is required. Monday's film is "Reconstruction/ Jim Crow." Sponsored by the Center for Community Engagement; Nathaniel R. Jones Center for Race, Gender, and Social Justice; and the Center for Truth Racial Healing & Transformation.
Wednesday, March 22, 2023
Women's History Month: Assertiveness workshop with Dean Robin Lightner
1:25 p.m. – 2:20 p.m.
UCBA Muntz 238
Are you a developing leader who wants to learn how to more effectively communicate with others to achieve your goals? Do you sometimes struggle to express yourself while navigating conflict, and wish you spoke up more often? Take the next step towards being a more confident, clear, and controlled communicator with a Women's History Month Assertiveness workshop facilitated by our very own UCBA Dean Robin Lightner! This in-person workshop will empower women and gender-diverse individuals with the tools that you need to succeed in your personal, academic, and professional life.
Stories of Discovery from the Ohio Lesbian Archives
4:00 p.m. – 5:00 p.m.
Women's Center, 571 Steger Student Life Center
Members of our local Ohio Lesbian Archives will share stories of discovery, spotlight some of their collections, and highlight this unique source of local women's and queer history in Cincinnati. The Ohio Lesbian Archives of one of only a handful of such dedicated archives in the U.S. Ohio Lesbian Archives has been collecting materials by and about Lesbians and Greater Cincinnati LGBTQ+ communities for more than three decades. They are open by appointment for students, researchers, or anyone curious about lesbian culture, wanting lesbian empowerment, or who wants to learn more about histories of local LGBTQ+ communities, movements, and individuals.
Thursday, March 23, 2023
OPEN – Ohio Policy Evaluation Network
12:15 p.m.
Room 235
Hear Dr. Danielle Bessett and Dr. Stef Murawsky discuss how policy impacts reproductive health and equity in Ohio and surrounding states, as well as potential opportunities for you to be involved in OPEN's work. Dr. Murawsky (they/them) is the Program & Policy Director for OPEN at the University of Cincinnati. They earned their master's degree in Women's, Gender, & Sexuality Studies, and PhD in Sociology, at UC. Their research interests include medical sociology, transgender studies, the sociology of gender, queer studies, feminism, and sexuality studies. They co-lead OPEN's Policy Core. Dr. Bessett (she/her) is a professor of sociology at the University of Cincinnati, Ohio, and faculty affiliate of both UC's Women's, Gender, and Sexuality Studies Department and Medical Scientist Training Program. She specializes in the sociology of medicine, gender, and reproduction and co-leads OPEN, which promotes rigorous, interdisciplinary research to assess Ohioans' reproductive health and well-being.
Friday, March 24, 2023
Loretta Ross: Reproductive Justice as Human Rights (Women's History Month Keynote)
4:30 p.m.
TUC Great Hall
Loretta Ross serves as this year's Women's History Month keynote for the Women's Center and the Taft Research Center, and is the Department of Women's, Gender, and Sexuality Studies' (WGSS) Distinguished Lecturer. Her visit is a collaborative effort by partners across UC who recognize the importance of promoting conversations about reproductive justice in this critical moment following the overturn of Roe v. Wade. In addition, the Taft Research Center's goal us to promote social justice oriented and public-facing research and programming. Reproductive Justice moves beyond choice and access to abortion. The term was coined by African American women, including Ross, in 1994, following the International Conference on Population and Development in Cairo, Egypt. It is a broader term that uses a human rights framework and also looks at reproductive oppression, sterilization abuse, immigration restrictions, gun culture, rape culture, the prison-to-school pipeline, etc. This presentation covers all aspects of Reproductive Justice which is becoming the primary framework new voices in the movement are using to move beyond the paralyzing debates of abortion politics. RSVP
Co-Sponsors
UC Women's Center
Taft Research Center
Department of Women's, Gender and Sexuality Studies
Department of Africana Studies
College of Law
Nathaniel R. Jones Center for Race, Gender and Social Justice
WGSS Graduate Student Organization
Fellows of the Graduate School
Graduate Student Government
UC Generation Action
5 More Resources to Learn More about Women's History
At the beginning of the month we focused on the origins of Women's History Month and women in the legal profession. This week we will focus on more general media and archival resources on women's history.
Available through the UC Libraries' Kanopy subscription, view films on women and society.
Available through the UC Libraries' Films on Demand subscription, view a curated list of films on women and history.
Celebrate Women's History Month this year by exploring pivotal points in American history and learning more about women who fought for progress. Watch films on a range of topics.
Women and the Spirit of '76
The American Revolution led to a transformation of the social order of the 18th century, and women played a significant role during this dramatic era. Prominent Americans – Betty Friedan, Dr. Rita Hauser, Dr. Margaret Mead, Patricia Linh, Prof. Richard B. Morris, Benetta Washington, Governor Ella Grasso, Dr. Jesse Bernard, and Catherine Filene Shouse relate progress made in the women's movement today to the leadership provided by their sisters of 1776 – Abigail Adams, Phyllis Wheatley, Mercy Otis Warren, Molly Pitcher, etc.
Decade of Our Destiny: Women — A New Force for Change
This film surveys the history of women's efforts to gain equal rights and examines the contributions of prominent women such as Elizabeth Cady Stanton to the women's movement. The film also discusses the establishment of the National Commission on the Observance of International Women's Year.
American Women and Social Change – Women at Work
Betty Medsger, free lance photographer-journalist; Sharon Prah, school librarian, Patricia Franzen, foreman at a steel plant; and Joan Wilson, welder at an automobile assembly plant, discuss the effects on children of working mothers, the response of men to the working woman, their reasons for working, and the life of women in non-traditional jobs.
More videos on Women's History from the National Archives
View previous Sunday@Home events from the National Women's History Museum. From panel discussions, author talks, guest curated walk throughs of brand-new online exhibits and virtual workshops, they invite you to take a "women's history break" to feel inspired and come away empowered by the stories of women on whose shoulders we now stand.
March Oral Arguments at the United States Supreme Court
From SCOTUS Blog:
Monday, March 20, 2023
Arizona v. Navajo Nation – (1) whether the opinion of the U.S. Court of Appeals for the 9th Circuit, allowing the Navajo Nation to proceed with a claim to enjoin the secretary of the U.S. Department of the Interior to develop a plan to meet the Navajo Nation's water needs and manage the mainstream of the Colorado River in the Lower Basin so as not to interfere with that plan, infringes upon the Supreme Court's retained and exclusive jurisdiction over the allocation of water from the LBCR mainstream in Arizona v. California; and (2) whether the Navajo Nation can state a cognizable claim for breach of trust consistent with the Supreme Court's holding in United States v. Jicarilla Apache Nation based solely on unquantified implied rights to water under the doctrine of Winters v. United States.
Tuesday, March 21, 2023
Abitron Austria GmbH v. Hetronic Int'l – whether the U.S. Court of Appeals for the 10th Circuit erred in applying the Lanham Act, which provides civil remedies for infringement of U.S. trademarks, extraterritorially to Abitron Austria GmbH's foreign sales, including purely foreign sales that never reached the United States or confused U.S. consumers.
Coinbase v. Bielski – whether a non-frivolous appeal of the denial of a motion to compel arbitration ousts a district court's jurisdiction to proceed with litigation pending appeal.
Wednesday, March 22, 2023
Jack Daniel's Prop. v. VIP Products LLC – (1) whether humorous use of another's trademark as one's own on a commercial product is subject to the Lanham Act's traditional likelihood-of-confusion analysis, 15 U.S.C. § 1125(a)(1), or instead receives heightened First Amendment protection from trademark-infringement claims; and (2) whether humorous use of another's mark as one's own on a commercial product is "noncommercial" and thus bars as a matter of law a claim of dilution by tarnishment under the Trademark Dilution Revision Act, 15 U.S.C. § 1125(c)(3)(C).
March Oral Arguments at the Ohio Supreme Court
You can view the live stream of oral arguments on the Court's website or see them after the arguments take place in the Ohio Channel archives.
Tuesday, March 22, 2023
Scott Fetzer Co. v. Am. Home Assurance Co., Inc. – concerning which state's laws apply to a dispute with an insurance company alleging breach of contract and bad faith. Court News Ohio Oral Argument Preview
State v. Daniel – whether Ohio Rev. Code 2909.15(D)(2)(b) violates the separation of powers doctrine by permitting a trial judge to reduce the number of years a defendant must register with the Arson Offender Registry. Court News Ohio Oral Argument Preview
State v. Stalder – (1) whether there must be facts and relevant circumstances presented to indicate intentional discrimination when contesting the exercise of a peremptory challenge allegedly based on gender discrimination; and (2) whether the remedy to return the case to the trial court for a hearing on the issue is proper when the trial court does not allow the other side to offer a gender-neutral reason for striking ajuror after the objecting party shows facts and circumstances indicating intentional discrimination. Court News Ohio Oral Argument Preview
McCarthy v. Lee – (1) whether the medical claim statute of repose applies to a minor's claim that is related to a parent's injury; and (2) whether a claim for loss of parental consortium can proceed if the parent's primary medical claim was barred by the statute of limitations. Court News Ohio Oral Argument Preview
Wednesday, March 23, 2023
State ex rel. Fair Hous. Opportunities of Nw. Ohio v. Ohio Fair Plan – (1) whether the Ohio FAIR Plan is considered a state agency subject to the public records law; and (2) whether a requestor of records is entitled to damages and attorney fees because their public record's request was denied. Court News Ohio Oral Argument Preview
State v. Swazey – (1) whether a trial court ruling on a motion to dismiss an indictment is limited to only the information in the indictment to determine if the indictment is legally defective; and (2) whether a guilty plea bars a defendant from appealing a denial of a motion to dismiss the indictment where the issue raised by the motion concerns whether a statute is retroactive. Court News Ohio Oral Argument Preview
Hanneman Fam. Funeral Home & Crematorium v. Orians – (1) whether preneed contracts constitute trade secret information; (2) whether damages can be determined in tort cases involving prenned funeral contracts and allegations of interference with business contracts and business relations; and (3) whether additional claims based on taking confidential information are preempted by the trade secrets act. Court News Ohio Oral Argument Preview
State v. Jordan and State v. Johnson, (Case Nos. 2022-0733 and 2022-0734) – whether conflicts of interest in multiple representation cases should be judged by a clear and understandable standard or test. Court News Ohio Oral Argument Preview