This week in the Law Library we are welcoming everyone back, providing information on library use, highlighting useful resources, and reminding everyone about COVID safety protocols.
Welcome Back
Welcome back, we missed you!
Law Library Hours & Services

Library Access
Your UC ID (Bearcat Card) will allow you access to the building and the Law Library 24/7. If you forget your UC ID during regular business hours (weekdays, 8:00am — 5:00pm) enter through the front doors. Please visit uc.edu/publichealth for COVID-19 and Return to Campus updates. For updates on other UC Libraries, please visit the UC Library Services Update page.
To enter the Library when it is closed, swipe your ID card through the key-card reader mounted outside the library entrance located across from classroom 302. Exit after-hours through that same door.
Although law faculty and students have 24/7 access to the Library, circulation and reference are only available during certain hours. Hours vary during holidays. You can check Library hours at 556-0163 or at https://law.uc.edu/education/library.html.
Circulation hours
Monday — Friday 8:00am – 6:00pm
Closed Saturday and Sunday
Closed Monday, Sept. 6
Research & Library Help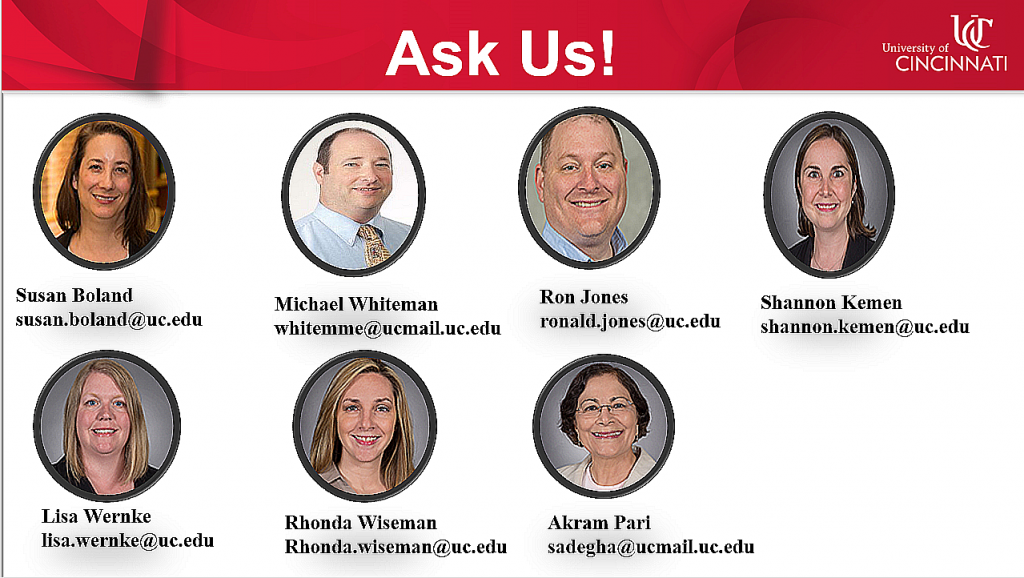 Take advantage of librarian expertise! Schedule an appointment, email us, or stop by our offices. We'll be happy to help with suggestions for sources and tips. Also, don't forget the Library's Web page and many research guides.
Library Study Areas
Seats are available on a first come, first serve basis. We are not reserving seating at this time. Please disinfect your seating area before you use it and after you use it. Disinfecting stations are located throughout the law library. Do not move furniture. Chairs and furniture have been arranged to meet social distancing requirements.
Beverages in containers with lids are permitted in the Library. No food is permitted in the Computer Labs or the Rare Book Room. Packaged snack foods such as candy, chips, pretzels, crackers, and cookies; as well as other non-odiferous, non-messy foods are allowed in the Library's open areas.  Please dispose of wrappers and containers promptly.
Unfortunately, sound carries in the Law Library. Please avoid loud or lengthy conversations in open areas of the Law Library, and any other conduct that disturbs others or disrupts their work. Please step outside of the Library for cell phone conversations and turn off the ring feature on your cell phone.
This Week's Research Sessions
Tuesday, August 24, 2021
Technology in Law Practice
Shannon Kemen, Legal Technology & Research Instructional Services Librarian
Room 208
11:10am – 12:05pm
Thursday, August 26, 2021
Law Review CiteChecker Training
Susan Boland, Associate Director
Room 114
12:15pm – 1:15pm
Lawyering I, sec. 4
Ron Jones, Electronic Resources Instructional Services Librarian
Room 100A
2:00pm – 3:25pm
Introduction to Legal Research
Lawyering I, sec. 6
Michael Whiteman, Associate Dean of Library Services
Room 100A
4:00pm – 5:25pm
Introduction to Legal Research
Friday, August 27, 2021
Lawyering I, sec. 5
Susan Boland, Associate Director
Room 204
9:00am – 10:25pm
Introduction to Legal Research
Lawyering I, sec. 3
Susan Boland, Associate Director
Room 204
10:40am – 12:05pm
Introduction to Legal Research
Featured Study Aid
CALI
CALI stands for Computer-Assisted Legal Instruction. CALI.org is a non-profit consortium of law schools – of which UC Law is a member – that develops and distributes legal education lessons to the consortium members. If using CALI, you will need to create an account (if you have not already done so) using a Cincinnati Law authorization code. You can obtain this code from a librarian.
There are over 400 CALI lessons dealing with First Year topics. You can also browse lessons tied to a specific casebook.CALI also publishes a selected number of free e-books. Of particular note are the Federal Rules.
Featured Database
Preview of United States Supreme Court Cases on HeinOnline
Preview is an eight-issue subscription publication that provides, in advance of oral argument, expert, plain-language analysis of all cases given plenary review by the Supreme Court. Preview Issues 1-7 precede the Court's seven argument sessions from October to April. Published in July following the close of the Court's term at the end of June, Preview Issue 8 reviews the term using a combination of charts, statistics, case summaries, and essays.
Featured Videos
Sources of Law & Legal Authority Video Part 1
This video discusses sources of law and legal authority among the different branches of government and looks at the weight of different primary law authority. The video is 8:11 minutes long and features closed captioning and a table of contents.
Sources of Law & Legal Authority Video Part 2: Hierarchy of Case Law
This video focuses on the hierarchy of case law and looks at the federal court system and several different state court systems. The video is 7:30 minutes long and features closed captioning and a table of contents.
Featured Guides
1-L Survival Guide
This guide provides vital information on library resources and services for first year law students.
LLM Survival Guide
This guide provides vital information on law library resources and services for LL.M. students.
Law Student Guide to the Law Library
This guide provides an overview of the Law Library for law students.
Know Before You Go
COVID-19 Campus Safety Measures (refer to the Return to Campus Guide for any updates)
Facial Coverings
Given the most-recent developments with the virus, and in keeping with new guidance from the CDC, the University requires all individuals, both fully vaccinated and those not fully vaccinated, to wear a facial covering indoors (unless you have received an exemption or accommodation; or when eating, drinking or alone in a private room). Facial Coverings guide
Those who are not fully vaccinated are required to wear facial covering when outdoors and unable to maintain social distancing. Individuals who are not wearing a facial covering when outdoors are attesting to compliance with this requirement.
Social Distancing in the Law Library
Students studying in the Law Library must maintain six feet of social distancing. Please do not move the furniture and pay attention to the signs. Sanitation stations are conveniently placed in each space so please wipe down surfaces before and after occupying a table or carrel.
UC COVID Check App
Please remember that all students are required to report via the UC COVID Check App if they develop viral symptoms or if they have a known exposure to a COVID-positive person. If you have COVID symptoms, do not come to campus. Stay home and contact the COVID Response Team via the App or Web Based Tool for further guidance. Note that failure to comply with these protocols is a violation of the UC Student Code of Conduct.
Proof of Vaccination
Students, faculty and staff are encouraged to submit proof of their COVID-19 vaccination (see eligibility requirements and entry information). UC will award nearly $50,000 in prizes to vaccinated students, faculty and staff. If you have not yet been fully vaccinated, COVID-19 vaccines are available to members of the campus community through many medical providers and pharmacies, including UC Health and Hamilton County Health Collaborative.