Veterans Day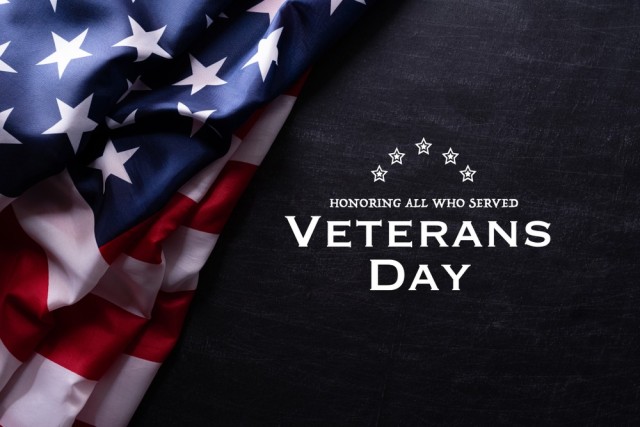 This Thursday is Veterans Day. Veterans Day originated as "Armistice Day" on Nov. 11, 1919, the first anniversary marking the end of World War I. Congress passed a resolution in 1926 for an annual observance, and November 11th became a national holiday beginning in 1938.
University of Cincinnati Fast Facts Regarding Veterans
The University of Cincinnati was ranked 86th in the nation for Best Colleges for Veterans in 2022 by U.S. News & World Report.
The University of Cincinnati Office of Veterans Programs & Services received the 2016 Impact Award from the Muhammad Ali Foundation for the 9/11 Memorial Stair Run.
UC is home to the University of Cincinnati Chapter of the Student Veterans of America
University of Cincinnati Yellow Ribbon Program
The Yellow Ribbon Program allows UC to partner with the VA to contribute funds to our veterans' unmet tuition and fee charges when their tuition and fees charges exceed the amount payable under Chapter 33. UC can contribute up to 50 percent of veterans' unmet costs; the Department of Veterans Affairs will match the amount. For the 2020-2021 academic year, there were a total of five (5) Yellow Ribbon scholarships available for College of Law students. Each student will be awarded up to a maximum of $4,596 for each of the Autumn and Spring terms, for a maximum of $9,192 per student for the academic year.
Selected Campus & Government Resources for Veterans
The Office of Veterans Programs & Services was founded to ensure that all individuals associated with the military that chose the University of Cincinnati would have a seamless transition from the Armed Forces to college.
The VetSuccess on Campus (VSOC) program aims to help Veterans, Servicemembers, and their qualified dependents succeed and thrive through a coordinated delivery of on-campus benefits assistance and counseling, leading to completion of their education and preparing them to enter the labor market in viable careers.
The VSOC program provides a VA Vocational Rehabilitation Counselor (VRC) to each VSOC school. These VRCs are called VetSuccess on Campus (VSOC) Counselors. A VA Vet Center Outreach Coordinator is also provided, and co-located on many campuses, to provide peer-to-peer counseling and referral services.
Each of Ohio's 88 counties has an office dedicated to providing guidance, resources, financial assistance and access to benefits to residents who are veterans or their dependents. All of the county offices share a mission to support veterans and get them the help they need, but some of the details vary. The website above provides contact information for each county's office.
This Ohio department conducts outreach to veterans and provides training and oversight to the 88 County Veterans Service Offices (CVSOs); coordinates programs and operations with the U.S. Department of Veterans Affairs (VA), which provides benefits to Ohio veterans; works with the Ohio General Assembly and Congressional representatives to craft legislation in support of veterans and their families at the state and federal levels; communicates and coordinates with other state agencies concerning veterans' programs and support to veterans; administers the Ohio Veterans Bonus for veterans of the Persian Gulf War era and post-9/11 era conflicts; operates the Ohio Veterans Homes in Sandusky and Georgetown which are open to Ohio-resident veterans who served in periods of armed conflicts; manages one federal education-related program: The State Approving Agency; hosts several veterans' ceremonies each year including the Governor's Wreath-Laying Ceremony which honors Ohio's killed in action and the Ohio Veterans Hall of Fame induction ceremony; and maintains custodianship of more than 1.9 million veterans' records dating back to World War II.
The VA has multiple missions, including ensuring that veterans and their families have access to health care and benefits that aid in the transition to civilian life, including education, home loans, life insurance and more. The agency serves as a portal to obtaining service records, disability benefits and health and wellness care.
Selected Legal Assistance Programs for Veterans
Ohio Legal Help is a nonprofit organization that was founded in 2018 to help all Ohioans access the civil justice system. It provides plain language legal help information, interactive self-help tools and connections to local legal and community resources that can help people resolve their legal issues.
The National Veterans Legal Services Program offers training for lawyers and others and free legal representation in discharge upgrade, disability retirement, military sexual trauma, and Court of Appeals for Veterans Claims cases. It also publishes the comprehensive Veterans Benefits Manual and a web application, the NVLSP VA Benefits Identifier, to assist in deter -mining VA benefits to which someone may be entitled.
A national clearinghouse site offers a searchable directory of free and low-cost legal service providers for veterans and service members in every State; specialized tool-kits and resources for attorneys and advocates; and user-friendly explanations of the law for military members, veterans, and their families and caregivers.
Search Accredited Attorneys, Claims Agents, or Veterans Service Organizations (VSO) Representatives.
VetLex is a system that links U.S. Veterans, Veteran service organizations, and qualified pro bono or "low-bono" attorneys nationwide. Providers stand ready, willing and able to offer the legal services needed.
For more resources on veterans and law, check out our Veterans Research Guide.