This week in the Law Library we're learning about bankruptcy, jury verdicts, looking at resources for bioethics, raising awareness about stalking, and celebrating Black History Month.
This Week's Research Sessions
Monday, January 30, 2023
Advanced Legal Research
Legal Technology & Research Instructional Services Librarian, Shannon Kemen & Electronic Resources​  & Instructional Technology Librarian Ron Jones
1:30pm – 2:55pm
Room 107
Wednesday, February 1, 2023
Law School Competencies Information Table

Laura Dixon-Caldwell, Instructional & Reference Services Librarian & Shannon Kemen, Legal Technology & Research Instructional Services Librarian
Atrium Table
8:30 – 9:00am
Learn about how you can participate in the law school research and technology competencies! University of Cincinnati Law students who complete the requirements of the Competency programs before graduation will receive a notation on their transcript stating that they are competent with respect to legal research and/or technology, a credential they can list proudly on their resumes as proof of the research skills they offer prospective employers.
Advanced Legal Research
Legal Technology & Research Instructional Services Librarian, Shannon Kemen & Electronic Resources​  & Instructional Technology Librarian Ron Jones
1:30pm – 2:55pm
Room 107
Thursday, February 2, 2023
Researching Bankruptcy
Legal Technology & Research Instructional Services Librarian, Shannon Kemen
Room 235
10:40am – 11:10am
Legal Research Competency Live Program
Room 245
12:15-1:15pm
Laura Dixon-Caldwell, Instructional & Reference Services Librarian
Researching Jury Verdicts on Lexis and Westlaw
Pizza available while supplies last. For a gluten free option RSVP to shannon.kemen@uc.edu.
Featured Study Aids
Available online via the West Academic study aid subscription, this book provides a concise analysis of areas in which the law has addressed issues in bioethics. Topics include assisted reproductive techniques and family-making, limitations on reproduction (including abortion, contraception and sterilization), the role of ethical and religious beliefs of health care professionals, the definition of death, end-of-life decision-making (including physician assisted death), genetics, research involving human subjects (including issues related to conflicts of interest), stem cell research, organ transplantation, and other emerging topics.
Available online via the West Academic study aid subscription, this book considers how law and ethics respond to the driving social, economic, and political forces of innovation, crisis and reform. Topics include health insurance reform, health care finance and delivery structures, treatment relationships, facility and insurance regulation, corporate and tax law, refusal of life support, organ donation, and reproductive technologies.
Available online via the West Academic study aid subscription, this text provides an overview of health law as it affects the professionals, institutions, and entities that deliver and finance health care in the United States. Considers the law's response to quality and error through institutional and professional regulation, and malpractice litigation against professionals, hospitals, and managed care organizations. Surveys tax, corporate, and organizational issues. Explores the government's efforts to control costs and expand access through Medicare and Medicaid. Examines government attempts to police anticompetitive activities, fraud, and abuse. And considers the legal and ethical issues involving death, human reproduction, medical treatment decision making, and medical research. The Affordable Care Act, HIPAA, HITECH, and other new statutory and regulatory changes of the past few years are thoroughly incorporated in all aspects of the legal discussion.
Featured Guide
This guide provides a general overview of health law. It covers locating articles, treatises, statutory law, administrative materials, agency publications, legislative histories and websites of interest. The guide can be used by students, faculty members, lawyers, and the general public.
Featured Treatise
This text presents the stories and context of landmark cases in the field. By conveying back story and creating context, this brief text hooks students' interest and deepens their understanding of the law and policy implications of each case.
Featured Database
Bloomberg Law's Health Practice Center provides access to health law news, case law, statutes, regulations, analysis, and practice tools, as well as access to BNA's Health Law and Business Portfolios, which provide authoritative, in-depth legal analysis and practical guidance from expert legal practitioners.
Featured Website
The Bioethics Research Library of the Kennedy Institute of Ethics is home to the world's most comprehensive collection of materials relating to the ethics of health care, biomedical research, biotechnology, and the environment. The interdisciplinary, multi-format collection includes not just books and journals, but oral history recordings and transcripts, Bioethics Commission reports and meeting notes, unpublished manuscripts, ephemera, and other "gray" literature. Their website contains many digital resources.
Featured Video
Harvard Law School Library hosted a book talk and discussion in celebration of the recent publication of "Big Data, Health Law, and Bioethics," edited by I. Glenn Cohen, Holly Fernandez Lynch, Urs Gasser, and Effy Vayena. The talk was co-sponsored by the Petrie-Flom Center for Health Law Policy, Biotechnology and Bioethics and by the Berkman Klein Center for Internet & Society at Harvard University.
January is National Stalking Awareness Month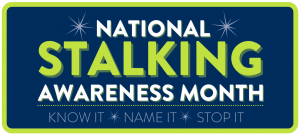 January 2023 marks the nineteenth annual National Stalking Awareness Month (NSAM), an annual call to action to recognize and respond to the serious crime of stalking. For UC and other selected resources, see last week's blog post.
Additional Selected Resources
Ohio Domestic Violence Network, Self-Help Legal Manual for Survivors of Domestic Violence, Sexual Violence, and Stalking
This page links to two Self Help Legal Manuals created by ODVN and the Ohio Poverty Law Center, with partners from the private bar and the Ohio Alliance to End Sexual Violence. These manuals were developed with generous support from the Ohio State Bar Foundation. One manual is for survivors of domestic violence, sexual violence, and stalking who are incarcerated or recently released and the other is for the general population. Each has a slightly different focus with some overlap.
Ohio Legal Help, Civil Stalking & Sexually Oriented Offense Protection Orders
A civil protection order can help keep you safe if you have experienced stalking or sexual violence. Learn more about getting a Civil Stalking or Sexually Oriented Offense Protection Order.
This site has information about the Stalking and Harassment Assessment and Risk Profile (SHARP); a variety of reports on stalking; and quick tips on stalking for advocates, judges, law enforcement, victims, friends of victims, mental health professionals, probation and parole, and health professionals.
National Center for Victims of Crime, Stalking Resource Center
In 2000, the National Center for Victims of Crime partnered with the U.S. Department of Justice Office on Violence Against Women to create the Stalking Resource Center (SRC). The mission of the Stalking Resource Center is to enhance the ability of professionals, organizations, and systems to effectively respond to stalking.
Safety Net Project, Technology Safety & Privacy: A Toolkit for Survivors
Through the Safety Net project, The National Network to End Domestic Violence (NNEDV) focuses on the intersection of technology and abuse and works to address how it impacts the safety, privacy, accessibility, and civil rights of victims. The Toolkit provides resources on safety tips, information, and privacy strategies for survivors on the use of technology.
February is Black History Month
This year's theme for Black History Month is Black Resistance. According to the Association for the Study of African American Life and History, "[a]s societal and political forces escalate to limit access to and exercise of the ballot, eliminate the teaching of Black history, and work to push us back into the 1890s, we can only rely on our capacity to resist" and "[t]his is a call to everyone, inside and outside the academy, to study the history of Black Americans' responses to establish safe spaces, where Black life can be sustained, fortified, and respected."
University of Cincinnati Celebrations, Resources & Events
UC Alumni Association Celebrates Black History Month
Each February, the UC Alumni Association gathers to pay tribute to our past, salute excellence and achievement within the Black UC family, and rejoice in the progress yet to come.
Kuamka Week 'Black Renaissance'  January 30 – February 4, 2023
Kuamka, which is Swahili for the phrase "in the beginning," is a week of exciting events. Students will compete to become the next Mr., Mx., or Ms. Kuamka, and will serve as the critical student leaders of the African American Cultural & Resource Center (AACRC)!
January 30, 2023
5:30 p.m.
TUC Great Hall
Meet the Candidates Platform and Q&A competition.
February 1, 2023
6:00 p.m.
TUC Great Hall
Talent Showcase Competition
February 3, 2023
6:00 p.m.
UC's African American Cultural & Resource Center (AACRC)
Furaha Friday: Kuamka Social
February 4, 2023
6:00 p.m.
TUC Great Hall
24th Annual Kuamka Ball and Crowning of Mr. & Ms. Kuamka
Free 'Black Panther' Oscar-nominated film screening
February 1 – 7, 2023
Check local Tristate cinema listings for twice daily viewings
February 1, 2023
Welcome Back Black History Month
Noon – 1:30 p.m.
TUC Great Hall
Join a luncheon featuring a Black faculty book swap. Students can pick up a free copy of the book of the month and participate in a dialogue. For more info, contact Holly McGee.
Drink-n-Think…A Lil' More
6:30 p.m.
Ludlow Wines, 343 Ludlow Ave.
For the second year, Ludlow Wines, Clifton's retail merchant of wine and craft beer, will host Holly McGee, UC associate professor of history, every Wednesday in Black History Month for another four-part Drink-n-Think lecture series. Drink, laugh and learn about everything you've ever wanted to know about African American history but were hesitant to ask.
Does America still need Black History Month?
Learn about the origins of Black History Month and engage in thoughtful discussions regarding the continuation (or cancellation) of the official celebration.
February 2, 2023
Black History Month Opening Ceremony
5:00 p.m.
UC's African American Cultural & Resource Center (AACRC)
The signature ceremony will include welcoming remarks by keynote speaker, Anthony Stone, UC Africana Studies instructor, cultural performances, a special Black History Month libation and the unveiling of the 2023 Kuamka candidates. Food, fun and festivities included.
February 4, 2023
Morning Movie Mini-Festival
10:00 a.m. – Noon
Esquire Theatre, 320 Ludlow Ave.
Film, "See You Tomorrow, a 2016 Chinese-Hong Kong romantic comedy"
Children's Africana Reading Circle
Noon – 1:30 p.m.
Evanston Recreation Center, 3204 Woodburn Ave.
Join UC each Saturday in February for reading, fun, crafts and free books! Feb. 4th book: "It's Just Skin, Silly!" (preschool to 5 years)
February 5, 2023
10:00 a.m.
Allen Temple AME Church, 7080 Reading Rd.
Historical Black Church Sundays! The Black church in America is a living, breathing, cultural artifact with which you are welcome to interact during February 2023. Join UC's Department of Africana Studies each week at select churches in Greater Cincinnati to celebrate Black History Month. Meet in the lobby 10 minutes prior to service for group Bearcat seating. The UC Office of the Vice Provost is generously providing refreshments during "Fellowship Hour" immediately following each service.