June is Pride Month and all of this month we have been highlighting resources to learn more about the history behind Pride Month and LGBTQ+ issues. Below we recap those resources.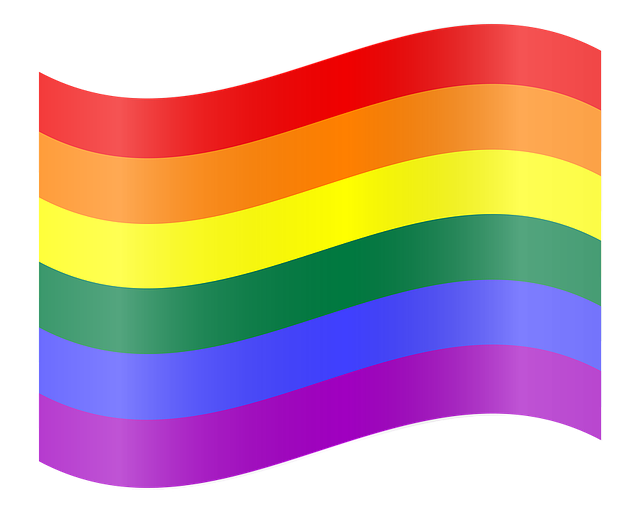 About Pride Month
Pride Month is commemorated each year in the month of June to honor the 1969 Stonewall uprising in New York City. The Stonewall Inn was a popular gay bar that police raided on Jun 28, 1969. The raid resulted in days of protest and the uprising is often cited as a catalyst for LGBTQ+ activism.
Pride Month Resources
ABA & Library of Congress Resources
ABA 21 Day Pride Month Challenge
The ABA Diversity and Inclusion Advisory Council invites you to participate in their 21 Day Pride Month Challenge, during which we will immerse ourselves in resources to help support building habits toward Pride learning. Sign up page
The ABA Commission on Sexual Orientation & Gender Identity presents four webinars on LGBTQ+ issues:
Allyship to Trans People in the Legal Profession
Combatting LGBT Implicit Bias in the Legal Profession
Sexual Orientation: The Legal Case for Coverage Under Title VII
Title VII US Supreme Court Decision: A Discussion and Analysis
The following external websites, subscription databases, and books provide information on demographics, statistics, and other data related to the LGBTQ+ community.
Cincinnati Events
Cincinnati Pride was born spring of 1973 in Cincinnati and annually celebrates the first public pride celebration in Greater Cincinnati held in April 6 – 8, 1973. Join the celebration at these events!
Selected Databases
Gender Studies Database¸ produced by NISC¸ combines NISC's popular Women's Studies International and Men's Studies databases with the coverage of sexual diversity issues. GSD covers the full spectrum of gender-engaged scholarship inside and outside academia. This database includes more than 696¸750 records with coverage spanning from 1972 and earlier to present.
A mostly full-text collection of newspapers, magazines and journals related to women's studies, men's studies, and gender and gay/lesbian issues. A rich collection of articles, editorials, columns, reviews, etc. provides a broad diversity of perspectives and viewpoints.
LGBT Thought and Culture is an online resource hosting books¸ periodicals¸ and archival materials documenting LGBT political¸ social and cultural movements throughout the twentieth century and into the present day. Supported by the Charles Phelps Taft Research Center.
LGBTQ+ Source (formerly LGBT Life, formerly GLBT Life) is an index to the world's literature regarding gay¸ lesbian¸ bisexual and transgender issues. This database contains indexing and abstracts for more than 120 LGBTQ+-specific core periodicals and over 230 LGBTQ+-specific core books and reference works. The product also contains data mined from over 40 priority periodicals and over 1¸700 select titles¸ as well as full text for 50 of the most important and historically significant LGBTQ+ journals¸ magazines and regional newspapers¸ and dozens of full text monographs. The database includes comprehensive indexing and abstract coverage as well as a specialized LGBTQ+ Thesaurus containing over 6¸300 terms.
The Directory of Open Access Books (DOAB) is a discovery service for open access books. DOAB provides a searchable index to peer-reviewed monographs and edited collections published under an open access licence, with links to the full texts of the publications at the publisher's website or repository. Researchers can use DOAB to access free to read monographs and edited volumes by searching and browsing the directory.
Selected E-Books
A Queer History of the United States abounds with startling examples of unknown or often ignored aspects of American history-the ineffectiveness of sodomy laws in the colonies, the prevalence of cross-dressing women soldiers in the Civil War, the impact of new technologies on LGBT life in the nineteenth century, and how rock music and popular culture were, in large part, responsible for the devastating backlash against gay rights in the late 1970s. Most striking, Bronski documents how, over centuries, various incarnations of social purity movements have consistently attempted to regulate all sexuality, including fantasies, masturbation, and queer sex. Resisting these efforts, same-sex desire flourished and helped make America what it is today
While stiff opposition still resists granting LGBTQ+ people equal rights, the American political and social sea change embracing much of the gay rights agenda began four decades ago when a few brave activists set out to challenge a vast anti-homosexual matrix of stereotypical media images, discriminatory laws, and repressive social mores. Gay Power explores the history of this American revolution.
A distinguished professor of law and philosophy at the University of Chicago, a prolific writer and award-winning thinker, Martha Nussbaum stands as one of our foremost authorities on law, justice, freedom, morality, and emotion. In From Disgust to Humanity, Nussbaum aims her considerable intellectual firepower at the bulwark of opposition to gay equality: the politics of disgust. Nussbaum argues that disgust has long been among the fundamental motivations of those who are fighting for legal discrimination against lesbian and gay citizens. When confronted with same-sex acts and relationships, she writes, they experience "a deep aversion akin to that inspired by bodily wastes, slimy insects, and spoiled food–and then cite that very reaction to justify a range of legal restrictions, from sodomy laws to bans on same-sex marriage." Nussbaum believes that the politics of disgust must be confronted directly, for it contradicts the basic principle of the equality of all citizens under the law. In its place she offers a "politics of humanity," based not merely on respect, but something akin to love, an uplifting imaginative engagement with others, an active effort to see the world from their perspectives, as fellow human beings. Combining rigorous analysis of the leading constitutional cases with philosophical reflection about underlying concepts of privacy, respect, discrimination, and liberty, Nussbaum discusses issues ranging from non-discrimination and same-sex marriage to "public sex."
The story of Christine Jorgensen, America's first prominent transsexual, famously narrated trans embodiment in the postwar era. Her celebrity, however, has obscured other mid-century trans narratives–ones lived by African Americans such as Lucy Hicks Anderson and James McHarris. Their erasure from trans history masks the profound ways race has figured prominently in the construction and representation of transgender subjects. In Black on Both Sides, C. Riley Snorton identifies multiple intersections between blackness and transness from the mid-nineteenth century to present-day anti-black and anti-trans legislation and violence. Drawing on a deep and varied archive of materials–early sexological texts, fugitive slave narratives, Afro-modernist literature, sensationalist journalism, Hollywood films–Snorton attends to how slavery and the production of racialized gender provided the foundations for an understanding of gender as mutable. In tracing the twinned genealogies of blackness and transness, Snorton follows multiple trajectories, from the medical experiments conducted on enslaved black women by J. Marion Sims, the "father of American gynecology," to the negation of blackness that makes transnormativity possible. Revealing instances of personal sovereignty among blacks living in the antebellum North that were mapped in terms of "cross dressing" and canonical black literary works that express black men's access to the "female within," Black on Both Sides concludes with a reading of the fate of Phillip DeVine, who was murdered alongside Brandon Teena in 1993, a fact omitted from the film Boys Don't Cry out of narrative convenience. Reconstructing these theoretical and historical trajectories furthers our imaginative capacities to conceive more livable black and trans worlds.
Across 200 documents, Marc Stein presents a unique record of the lessons and legacies of Stonewall. Drawing from sources that include mainstream, alternative, and LGBTQ media, gay-bar guide listings, state court decisions, political fliers, first-person accounts, song lyrics, and photographs, Stein paints an indelible portrait of this pivotal moment in the LGBT movement. In The Stonewall Riots, Stein does not construct a neatly quilted, streamlined narrative of Greenwich Village, its people, and its protests; instead, he allows multiple truths to find their voices and speak to one another, much like the conversations you'd expect to overhear in your neighborhood bar.
This book explores the role of legal discourse in shaping sexual experience, sexual expression, and sexual identity. The book focuses on three topics: anti-gay hate crime laws, same-sex sexual harassment, and same-sex marriage, examining how sexuality is socially constructed through the institutionally-specific production of legal discourse. The book argues that the law's power to authorize specific discourses and practices of love, desire, hatred, fear, and vulnerability remain grounded in the powerful discourses and institutional practices that mark law as dispassionate, cerebral, and fundamentally procedural. The book contends that those states of passion we experience in our daily lives as particularly significant—to our sense of self, to our collective and social identities, and to our ideas about the body and its dictates—increasingly have as much to do with the state as they do with passion.
Films, Museums & Archives
Narrated by Melissa Etheridge. In 1969 the police raided the Stonewall Inn, a gay bar in New York City's Greenwich Village, leading to three nights of rioting by the city's gay community. With this outpouring of courage and unity the Gay Liberation Movement had begun. After Stonewall, chronicles the history of lesbian and gay life from the riots at Stonewall to the end of the century. It captures the hard work, struggles, tragic defeats and exciting victories experienced since them. It explores how AIDS literally changed the direction of the movement.
This month's featured films on Films on Demand highlight LGBTQ+ issues.
Search thousands of photographs, audiovisual recordings, documents and periodicals.
The Lesbian Herstory collects material by and about all Lesbians, acknowledging changing concepts of Lesbian identities. All expressions of Lesbian identities, desires and practices are important, welcomed and included. The goal is to document the widest range of Lesbian experience from all geographic, cultural, political and economic backgrounds and historical contexts, not just the lives of the famous or the published.
This PBS film explores the dramatic event that launched a worldwide rights movement. Told by those who took part, from drag queens and street hustlers to police detectives, journalists and a former mayor of New York, and featuring a rich trove of archival footage, this film revisits a time when homosexual acts were illegal throughout America, and homosexuality itself was seen as a form of mental illness. When police raided Stonewall on June 28, 1969, gay men and women did something they had not done before: they fought back. As the streets of New York erupted into violent protests and street demonstrations, the collective anger announced that the gay rights movement had arrived.