This week in the Law Library, we're teaching terms and connectors, technology, celebrating Constitution Week, Bisexual Awareness Week, and National Hispanic Heritage Month, and previewing Ohio Supreme Court oral arguments.
This Week's Research Sessions
Monday, September 20, 2021
Legal Research & Writing for LLM Students
Shannon Kemen, Legal Technology & Research Instructional Services Librarian
Room 303
8:00am – 9:20am
Terms & Connectors Searching
Tuesday, September 21, 2021
Technology in Law Practice
Shannon Kemen, Legal Technology & Research Instructional Services Librarian
Room 208
11:10am – 12:05pm
Thursday, September 23, 2021
Technology in Law Practice
Shannon Kemen, Legal Technology & Research Instructional Services Librarian
Room 208
11:10am – 12:05pm
Celebrate Constitution Week with the Law Library
September 17 through September 23 is Constitution Week! In celebration, we will be highlighting constitutional law resources. For more information on Constitution Day and Constitution Week, see last Friday's Celebrate Constitution Day and Constitution Week post. Be sure and stop by the second floor of the building to view our Constitution Day display that features materials from our rare books and special collections. Also view our Constitution Week display in the Law Library in front of the digital sign.
President Biden's Presidential Proclamation on Constitution Day and Citizenship Day, and Constitution Week, 2021
Featured Database
Research the constitutional and political development of every country in the world. The United States of America entry includes important predecessor documents to the Constitution, scholarly articles, commentaries, and more.
Featured Video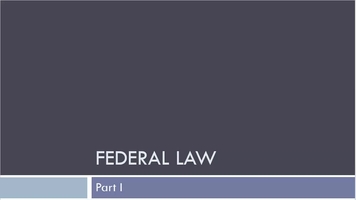 This video, introduces US Constitutional and statutory law. It explains where they fit in the hierarchy of legal authority, what a session law is, what a code is, and the difference between official and unofficial codes. The video is 11:24 minutes long and features closed captioning and a table of contents.
Featured Study Aids
Constitutional Law Stories, available through the West Academic study aid subscription, provides a student with an understanding of 15 leading U.S. constitutional law cases. It focuses on how lawyers, judges, and socioeconomic factors shaped the litigation, and why the cases have attained landmark status.
Constitutional Law: National Power and Federalism, available through the Wolters Kluwer study aid subscription, is a problem-oriented guide to the principle doctrines of constitutional law that are covered in the typical course. This text walks the student through issues pertaining to the structure of our constitutional system, including judicial review, justiciability, national power, supremacy, the separation of powers and federalism, as well as some of the structural limitations that the Constitution imposes on state powers. Combines textual material with well-written and comprehensive examples, explanations, and questions to test students' comprehension of the materials and provide practice in applying legal principles to fact patterns.
This text, available through the Lexis Overdrive study aid subscription, provides the current black letter Constitutional Law doctrines alongside the historical background needed to understand them and the major lines of dissenting thought. It explains the methodological approaches the Court has taken to the topics it covers and is interspersed with commentary to help readers understand both those approaches and the rules they generate.
Featured Treatise
Treatise on Constitutional Law: Substance & Procedure
Rotunda and Nowak's Treatise on Constitutional Law – Substance and Procedure, available on Westlaw, provides scholars, practitioners, judges, and officials with an up-to-date analysis and synthesis of federal constitutional law. Focus is primarily on the Supreme Court and incorporates the political, historical, and economic background of court decisions.The text analyzes constitutional questions in terms of precedent, political science theory, economics, and American history, making the leading cases understandable concerning both their overall significance and the precise legal rules they establish.
Bisexual Awareness Week
Photograph of Bisexual Pride flag by Peter Salanki
Bisexual+ Awareness Week seeks to accelerate acceptance of the bi+ (bisexual, pansexual, fluid, no label, queer, etc.) community. #BiWeek draws attention to the experiences, while also celebrating the resiliency of, the bisexual+ community.
Some Key Vocabulary
The GLAAD, Reporting on the Bisexual Community: A Resource for Journalists and Media Professionals (2016), https://www.glaad.org/sites/default/files/BiMediaResourceGuide.pdf, provides the following definitions:
BISEXUAL, BI: A person who has the capacity to form enduring physical, romantic, and/or emotional attractions to those of the same gender or to those of another gender.
BI ERASURE: A pervasive problem in which the existence or legitimacy of bisexuality (either in regard to an individual or as an identity) is questioned or denied outright.
BISEXUAL UMBRELLA, BI+: An encompassing term for people with the capacity to be attracted to more than once gender. Includes people who identify as bisexual, pansexual, fluid, queer, and more.
Suggesting bisexual people are going through a phase or describing their identity as transitory reinforces the harmful misconception that bisexuality is not a real or fixed part of the person's identity.
Selected Resources for Learning More About Bisexuality and the Law

Available on Westlaw. This book discusses the legal aspects of marriage, divorce, adoption, custody, parentage, surrogacy, visitation, assisted reproduction, and other family law topics from the perspective of lesbian, gay, bisexual, and transgender individuals. It contains analysis of issues related to post-heterosexual relationship custody and visitation; single party adoption and foster care; treatment of issues associated with assisted reproduction and surrogacy; two-party adoptions and judgments; custody disputes between former same-sex partners in cases in which both partners are legal parents; dissolution and separation issues where only one parent is a legal parent; marriage and other relationship protections; and transsexual marriage and parentage rights.
Available @ Law Stacks  KF3467.5 .O938 2015. This book is intended to address the experiences of LGBT attorneys, academics, and jurists in the legal profession. Through their own words, the authors help educate and promote justice in and through the legal profession for the LGBT community in all its diversity. This book also celebrates LGBT members of the bar by recognizing this diverse group, their contributions, and their struggles. Being an individual, doing your own thing no matter what everyone else is doing, is the heart of the essays that comprise this book. The writers share their experience of at once blending in and yet feeling different, vulnerable, and exposed. They speak of the ever-present potential to be treated differently simply because of who they are, giving these essays deeper meaning. Some of these authors endured secret pain, suffering in private, hiding personal lives from colleagues. Others barely soldiered through, endeavoring just to make the lives of their clients better. And some openly achieved great success, personally, professionally, or both. Each and every one merits attention. Each chapter of this book informs and inspires readers to broaden horizons, opening minds to the vast diversity of LGBT individuals. The book aims to improve the legal profession and the justice system itself by demonstrating the vast potential within all of us.
This text addresses the protections that are available to lesbian, gay, bisexual and transgender ("LGBT") individuals who allege they have been victims of employment discrimination. The primary focus is on federal statutory law, particularly Title VII of the Civil Rights Act of 1964. Although the focus here is on federal law, Appendix I to this Chapter lists the states that protect individuals from public and/or private discrimination under state laws. This topic is explored in four parts: (1) a brief overview of congressional efforts to enact a statute to protect individuals from employment discrimination on the basis of sexual orientation and gender identity; (2) discusses Title VII and sexual orientation; (3) discusses ways in which recent courts have handled sexual orientation discrimination under Title VII; and (4) similarly examines early judicial treatment of claims brought by individuals alleging discrimination on the basis of their gender identity and/or expression and explores how the law has developed in this area as well.
Available on Westlaw. Sexual Orientation and the Law is the nation's first and most comprehensive legal treatise for practitioners nation-wide representing lesbian, gay, bisexual, or transgendered clients; those in alternative families or facing discrimination due to alternative lifestyles or gender stereotypes; and clients with HIV or AIDS. It includes extensive legal arguments, litigation strategies, current caselaw and legislation, sample agreements, practice pointers, and forms.
UC LGBTQ Center

's Bisexual Awareness Events
Monday, Sept. 20, 2021
Bi Box of Inqueery Tabling, Main Street @ 11:00 AM
Tuesday, Sept. 21, 2021
Bi Week Chalk Takeover, Mews Gardens @ 4:00 PM
Wednesday, Sept. 22, 2021
Hands Up for Bi Awareness, Main Street @ 11:00 AM
Thursday, Sept. 23, 2021
Films in Context – FRIDA (in partnership with Latinx En Accion), TUC Theater @ 6:00 PM
Friday, Sept. 24, 2021
Tea Dance & Queer Trivia, Bearcat Plaza @ 4:00 PM
Celebrate Hispanic Heritage Month
Hispanic Heritage Month is September 15 to October 15 and celebrates the contributions and importance of Hispanics and Latinos to the United States and those American citizens whose ancestors came from Spain, Mexico, the Caribbean, Central America, and South America. This year's theme is "Esperanza: A Celebration of Hispanic Heritage and Hope." This week, we take a look at LatinX attorneys and law students. According to the 2020 NALP Diversity Report, LatinX attorneys made up 2.80% of partners and 5.64% of associates. In Cincinnati, LatinX attorneys made up 1.24% of partners and 4.76% of associates. 13% of first-year law students are Hispanic. See https://www.abarequireddisclosures.org. According to the 2020 survey by the ABA Young Lawyers Division and the ABA Media Relations and Strategic Communications Division, Black and Hispanic law school graduates generally take on more student loan debt than white students. Results from the 2021 survey are due soon.
September Oral Arguments at the Ohio Supreme Court
You can view the live stream of oral arguments on the Court's website or see them after the arguments take place in the Ohio Channel archives.
Tuesday, September 21, 2021
Wednesday, September 22, 2021
Fonzi v. Brown – (1) whether service by publication under the Ohio Dormant Minerals Act (ODEMA) requires a Landowner to determine that service by certified mail, return receipt requested, is impossible to complete by searching for the names and addresses of the mineral holders outside the land records of the county in which the land is located; (2) whether the former holder of a mineral interest has the burden of establishing that service of the R.C. 5301.56(E)(1) notice was insufficient; (3) in order to demonstrate insufficient service, whether a former holder must show that with additional efforts by the Landowner, service by certified mail, return receipt requested, would have been possible to complete; and (4) whether a mineral interest is abandoned and vested in the Landowner if the requirements of R.C. 5301.56(E) apply and R.C. 5301.56(B)(1) through (3) do not apply.
Ohio v. Toles – whether an appellate court may modify a sentence if it finds by clear and convincing evidence that the record does not support that sentence.
Ohio v. Yerkey – whether victims are entitled to restitution that includes lost wages suffered because of attending court proceedings.