This week in the Law Library we're teaching first year students advanced searching, learning about the First Amendment and Education Law, celebrating President's Day, continuing to celebrate Black History Month, and previewing oral arguments for the U.S. Supreme Court.
This Week's Research Sessions
Monday, February 20, 2023
Advanced Legal Research
Legal Technology & Research Instructional Services Librarian, Shannon Kemen & Electronic Resources​  & Instructional Technology Librarian Ron Jones
1:30pm – 2:55pm
Room 107
Wednesday, February 22, 2023
Law School Competencies Information Table

Laura Dixon-Caldwell, Instructional & Reference Services Librarian & Shannon Kemen, Legal Technology & Research Instructional Services Librarian
Atrium Table
8:30 – 9:00am
Learn about how you can participate in the law school research and technology competencies! University of Cincinnati Law students who complete the requirements of the Competency programs before graduation will receive a notation on their transcript stating that they are competent with respect to legal research and/or technology, a credential they can list proudly on their resumes as proof of the research skills they offer prospective employers.
Lawyering II, Advocacy, section 6
Interim Director Susan Boland
Memo Research Help
1:30pm – 2:55pm
Room 135
Advanced Legal Research
Legal Technology & Research Instructional Services Librarian, Shannon Kemen & Electronic Resources​  & Instructional Technology Librarian Ron Jones
1:30pm – 2:55pm
Room 107
Thursday, February 23, 2023
Lawyering II, Advocacy, sec. 4
Shannon Kemen, Legal Technology & Research Instructional Services Librarian
Room 145
9:00am – 10:25am
Advanced Searching Techniques
Lawyering II, Advocacy, sec. 3
Shannon Kemen, Legal Technology & Research Instructional Services Librarian
Room 145
1:30pm – 2:55pm
Advanced Searching Techniques
Happy President's Day!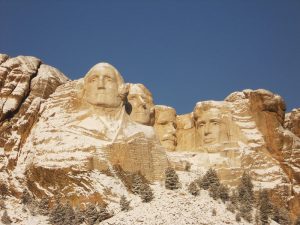 President's Day is celebrated on the third Monday in February. President's Day started in 1879 when George Washington's birthday, February 22nd, was designated a legal holiday for the District of Columbia. Chap. 38, 20 Stat. 277 (1879). The Federal holiday is still officially named for George Washington and the name was never changed to President's Day. It was moved to the third Monday in February after the Uniform Monday Holiday Law. Pub. L. 90–363, 82 Stat. 250 (1971). Interested in researching presidents? Check out some of the resources below:
Public Papers of the Presidents
Compilation of Presidential Documents 1992 – Present
State of the Union Addresses – 1994 – Present
Presidential Inaugural Addresses
Impeachment Related Publications
Library of Congress Presidents of the United States: Resource Guides
Smithsonian National Museum of American History, The American Presidency: A Glorious Burden
The American Presidency Project
The First Amendment in Education Law
Last Friday Dean and the Jesse H. Choper Distinguished Professor of Law at the University of California Berkeley School of Law Erwin Chemerinsky gave the inaugural lecture of the Professor Ronna Greff Schneider Constitutional Issues in Education Law Speaker Series. His lecture was titled "The First Amendment in Education." To help you learn more about this subject, check out our  display in the Law Library Services Suite 110 as well as the featured resources below.
Featured Study Aids
Available through the West Academic study aid subscription, this text captures the key points of the precedents governing student rights and responsibilities relating to attendance, speech, expression, religion, discipline, grades, tests, drugs, search and seizure, the emerging law of social media, i.e., cyberbullying, and the range of procedural due process interests. The book further addresses the range of constitutional rights and protections for teachers as well as employment terms and conditions, including contracts, tenure and potential liabilities.
Available through the Aspen Learning Library subscription, this book covers all of the First Amendment's major topics – with emphasis on speech and religion. The topics covered include a comprehensive review of the most recent U.S. Supreme Court decisions on speech, association, and religion as well as cutting edge issues raised by current events, including the COVID-19 pandemic.
Available through the LexisNexis Digital Library study aid subscription, this text covers the fundamentals of the First Amendment including speech advocating violent or illegal action; content regulation; overbreadth, vagueness, and prior restriants; content neutrality, freedom of association and compelled expression, the government as an employer, educator, and source of funds; media and the First Amendment, the Establishment Clause, and the Free Exercise Clause. The new edition covers all of the recent relevant decisions, including Iancu v. Brunetti; Manhattan Community Access Corp. v. Halleck; Matal v. Tam; The American Legion v. American Humanist Assocation; National Institute of Family and Life Advocates v. Becerra; Minnesota Voters Alliance v. Mansky; Janus v. American Federation of State, County and Municipal Employees; Masterpiece Cakeshop Ltd. V. Colorado Civil Rights Commission; Expressions Hair Design v. Schneiderman; Packingham v. North Carolina; and Trinity Lutheran Church of Columbia, Inc. v. Comer.
Featured Guide
This guide provides a general overview of education law in the United States. It covers locating articles, treatises, statutory law, administrative regulations, agency publications, legislative histories and websites of interest.
Featured Treatise
Available on Westlaw, this two volume publication analyzes students' and teachers' freedom of religion and speech in public schools as well as the restraints on those freedoms. It also discusses school discipline and violence as they relate to due process, and deals with issues of inclusion and equality in regard to: Gender, Race, and Students with disabilities.
Featured Website
The National Coalition Against Censorship was formed by a group of activists affiliated with the ACLU in response to the 1973 Supreme Court decision in Miller v. California, which narrowed First Amendment protections for sexual expression and opened the door to obscenity prosecutions. As an alliance of more than 50 national non-profits, including literary, artistic, religious, educational, professional, labor, and civil liberties groups, they have engaged in direct advocacy and education to support First Amendment principles for over 40 years. This page is a collection of materials on the topic of censorship in schools for the use of students, educators, and parents everywhere.
Featured Video
The First Amendment's right to free speech is one of our most important rights as citizens. But what does freedom of speech mean for students in public schools? How do you balance a school's need for order with a student's right to free expression? This film explores the evolution of student free speech rights through Supreme Court cases, from Tinker v. Des Moines to Mahanoy Area School District v. B.L., the case of the Snapchatting cheerleader.
February is Black History Month
This year's theme for Black History Month is Black Resistance. According to the Association for the Study of African American Life and History, "[a]s societal and political forces escalate to limit access to and exercise of the ballot, eliminate the teaching of Black history, and work to push us back into the 1890s, we can only rely on our capacity to resist" and "[t]his is a call to everyone, inside and outside the academy, to study the history of Black Americans' responses to establish safe spaces, where Black life can be sustained, fortified, and respected."
University of Cincinnati Celebrations, Resources & Events
Law Library Display
Explore some of the College of Law's notable African American alumni as well as a few of history's most impactful African American Lawyers and Legislators. Be sure to check out one (or two) of our display books! This display was curated by Library Associate Rhonda Wiseman.
UC Libraries Displays
Cincinnati African American Medical Trailblazers
On display on the 4th floor lobby of Langsam Library, this exhibit features materials from the collections of UC Libraries about Lucy Oxley, MD, the first person of color to receive a medical degree from the UC College of Medicine, and O'dell Owens, renowned physician, former Hamilton County coroner and the first African American to sit on the board of the University of Cincinnati.
The Middle Passage
On the 5th floor lobby of Langsam Library is a large map depicting the Middle Passage, which commonly refers to the experience of enslaved African people as they traveled across the Atlantic Basin to the Americas during the transatlantic slave trade. Illness, insanity, hunger, dehydration, torture, revolt, suicide and ship wreck led to the death of ~1.8 million Africans at sea during their Middle Passage. The exhibit corresponds with the Uncommon Read of the book "Slavery at Sea: Terror, Sex, and Sickness in the Middle Passage" by Sowande' M. Mustakeem. A Lunch and Learn with the author is scheduled for Thursday, Feb. 23 from 12:30-2pm in the Donald C. Harrison Health Sciences Library's Stanley J. Lucas M.D. Boardroom (E005HA).
Both exhibits were curated by UC Libraries faculty and staff: Meshia Anderson, Susan Banoun, Sidney Gao, Tiffany Grant, Gino Pasi and June Taylor-Slaughter. It was designed by UC Libraries communications design co-op Jakob Elliott.
Each February, the UC Alumni Association gathers to pay tribute to our past, salute excellence and achievement within the Black UC family, and rejoice in the progress yet to come.
CECH proudly acknowledges influential African American students, staff, faculty, alumni, and community partners who made history locally or beyond as we celebrate Black History Month.
UC Athletics Celebrates Black History Month
Throughout February, UC Athletics will celebrate with a month-long digital storytelling effort.
February 21, 2023
Black Family Fun Night
6:30 p.m. – 8:30 p.m.
Tangeman University Center (TUC), 2600 Clifton Ave.
Friends, family and relatives alike are welcome to participate in an evening of wholesome fun including games, meditation, movies, scavenger hunts, family reading and a kids' "Sip-n-Paint."
The University of Cincinnati National Association of Black Social Workers ( NABSW ) participates in the 28 Days of Black Excellence organized by Africana Studies, the College of A&S, the Charles Taft Research Center, and other partners. NABSW has organized Black Family Fun Night, with sponsorship from the School of Social Work and the College of Allied Health Sciences.
February 22, 2023
Open Academic Classes
2:30 p.m. – 5:20 p.m.
AACRC, 60 W. Charlton
Throughout February, select classes across campus will be open for Bearcats and their guests to drop in and learn. A list of open classes will be available in every discipline, from history and sociology to medicine and music. Come in and experience Black history from a truly interdisciplinary perspective. On February 22nd, the class is titled "Black Lives Matter in a Post-Racial Society" in UC's Department of African Studies.
"Love Jones" Movie and Panel Discussion
4:00 p.m.
TUC Mainstreet Cinema
Pay tribute by watching one of the most popular Black love films ever, "Love Jones." Wear your 90's attire as a way to recognize the 25th anniversary of this historical film. After the film, engage in a modern-day Love Jones discussion with student panelists and community therapists. Free popcorn, soda and snacks.
Drink-n-Think…A Lil' More
6:30 p.m.
Ludlow Wines, 343 Ludlow Ave.
For the second year, Ludlow Wines, Clifton's retail merchant of wine and craft beer, will host Holly McGee, UC associate professor of history, every Wednesday in Black History Month for another four-part Drink-n-Think lecture series. Drink, laugh and learn about everything you've ever wanted to know about African American history but were hesitant to ask.
Black to the future. Kick back and relax while we delve into Afrofuturism — a social, political and artistic movement that imagines a world where African-descended peoples and their cultures play a central role in the creation of the world.
February 23, 2023
Black History Month Keynote Series
10:00 a.m. – 11:30 a.m. in the UC Department of History and 12:20 p.m. – 2:00 p.m. in the UC College of Medicine, Stanley J. Lucas Boardroom
Week four, "Health and Wellness" presented by Sowande' Mustakeem, from Washington University, who speaks about her book, "Slavery at Sea: Terror, Sex and Sickness in the Middle Passage." *Free E-copies of the book available (as a PDF) for all Bearcats.
Medical and Health Screenings
10:00 a.m. – 3:00 p.m.
TUC Atrium
Join UC's Office of Diversity, Equity and Inclusion and community healthcare providers for medical screenings and guidance toward health resources. Sponsors include the African American Chamber of Commerce, UC's College of Medicine, Africana studies and A&S.
Black History Month Trivia Night
5:00 p.m. – 7:00 p.m.
Swift 700 UHP Lounge
A Production by UC University Honors Program Belong Coordinators.  RSVP
Talking Black: Poetry, Rap and Spoken Word
7:00 p.m. – 9:00 p.m.
TUC Atrium
Join the Bearcat community for an intimate evening of thought-provoking, inspiring and emotionally artistic testimony. "Talking Black" is an opportunity for poets, writers, performers and artists of all kinds to share their work as an expression of their humanity and as a way of processing racialized trauma. This open mic event will feature 10 exciting student performers and create an improv space where members of the audience may perform if so moved.
February 24, 2023
Black History Month Keynote Series
3:00 p.m.
UC College of Medicine, Kresge Auditorium
Week four, "Health and Wellness" presented by Yolanda Lawson, president-elect, National Medical Association. Enjoy family fun, games, fitness, mindfulness and free health screenings.
Talking Black: Open Mike
7:00 p.m. – 9:00 p.m.
TUC Atrium
Join the Bearcat community for an intimate evening of thought-provoking, inspiring,and emotional artistic testimonies.  "Talking Black" is an opportunity for poets, writers, performers,and artists of all kinds to showcase their work as an expression of their humanity and as a way of processing racialized trauma.  This structured open mic event will feature 10 talented student performers, creating an improv space where members of the audience may perform, if so moved.
February 25, 2023
Morning Movie Mini-Festival
10:00 a.m. – Noon
Esquire Theatre, 320 Ludlow Ave.
Documentary, "Aftershock," which addresses one of the most pressing American crises of our time — the U.S. maternal health crisis. The documentary details two families who galvanize activists, birth-workers and physicians to reckon with maternal health disparities.
Listen and Learn
Noon – 1:00 p.m.
Avondale Branch Library, 3566 Reading Rd.
Join a panel discussion about Avondale's Black history featuring community voices from the neighborhood. Guests include Jan-Michele Lemon Kearney, Cincinnati's vice mayor; Sandra Jones Mitchell, director of Serving Older Adults Through Changing Times; and Andria Carter, community engagement specialist and board president of Invest in Neighborhoods. Conversations moderated by Deqah Hussein-Wetzel, co-host of the Urban Roots podcast and director of Urbanist Media.
Children's Africana Reading Circle
Noon – 1:30 p.m.
Evanston Recreation Center, 3204 Woodburn Ave.
Join UC each Saturday in February for reading, fun, crafts and free books! Feb. 25th book: "Piecing Me Together" (young adult)
Archival Scanning Session with Urban Media
1:00 p.m. – 4:00 p.m.
Avondale Branch Library, 3566 Reading Rd.
Get involved in preserving your family and local history. Urbanist Media is currently producing a documentary video highlighting the devastating impacts of I-71 on Avondale and Evanston and I-74 on South Cumminsville. They need help from the community to understand what these neighborhoods looked like before these highways. To do this, Urbanist Media is partnering with the Cincinnati and Hamilton County Public Library to host a community archival scanning session at the Avondale Branch Library. If a resident agrees to share the scans with the library (for their archives) and Urbanist Media (for the documentary), they will be able to scan up to 10 family photographs and documents (up to 8.5-by-11-inch in size) and receive the digital contents on a free flash drive in return.
February 26, 2023
Historical Black Church Sundays
10:45 a.m.
Mount Zion Baptist Church-Woodlawn, 10180 Woodlawn Blvd.
Historical Black Church Sundays! The Black church in America is a living, breathing, cultural artifact with which you are welcome to interact during February 2023. Join UC's Department of Africana Studies each week at select churches in Greater Cincinnati to celebrate Black History Month. Meet in the lobby 10 minutes prior to service for group Bearcat seating. The UC Office of the Vice Provost is generously providing refreshments during "Fellowship Hour" immediately following each service.
Selected Resources to Learn More About Black History
Previously we focused on resources regarding African Americans in the legal profession. Last week we focused on museum and media resources that will help you learn more about Black history and culture. This week we will explore using databases to learn more.
A person's civil rights ensure protection from discrimination based on race, gender, sexual orientation, national origin or ethnicity, religion, age, and disability. While often confused, civil liberties, on the other hand, are basic freedoms outlined in the Bill of Rights and Constitution. Examples of civil liberties include the right to free speech, to privacy, to remain silent during police interrogation, and the right to have a fair trial. The lifeblood of civil rights protection in the United States is the equal protection clause of the Fourteenth Amendment ("No state shall make or enforce any law which shall … deny to any person within its jurisdiction the equal protection of the laws"). Click through the pages in this database to learn how far our nation has come in fulfilling its promise of "all men are created equal" and how much further it still can go.
This HeinOnline collection brings together a multitude of essential legal materials on slavery in the United States and the English-speaking world. It includes every statute passed by every colony and state on slavery, every federal statute dealing with slavery, and all reported state and federal cases on slavery.
A comprehensive collection of scholarship focused on the lives and events which have shaped African American and African history and culture, coupled with precise search and browse capabilities. Features over 7,500 articles from Oxford's reference works, approximately 100 primary sources with specially written commentaries, over 1,000 images, over 100 maps, over 200 charts and tables¸ timelines to guide researchers through the history of African Americans and over 6¸000 biographies. The core content includes: Africana, which presents an account of the African and African American experience in five volumes; the Encyclopedia of African American history; Black women in America 2nd ed; and the African American national biography.
ProQuest's Black Freedom Struggle in the United States features 2,000 expertly selected primary source documents – historical newspaper articles, pamphlets, diaries, correspondence and more – from pivotal eras in African American history. Documents are focused on six different phases of Black Freedom: 1. Slavery and the Abolitionist Movement (1790-1860) — 2. The Civil War and the Reconstruction Era (1861-1877) — 3. Jim Crow Era from 1878 to the Great Depression (1878-1932) — 4. The New Deal and World War II (1933-1945) — 5. The Civil Rights and Black Power Movements (1946-1975) — 6. The Contemporary Era (1976-2000). The documents presented here represent a selection of primary sources available in several ProQuest databases.
The Black Studies Center consists of scholarly journals, commissioned overview essays by top scholars in Black Studies, historic indexes, and The Chicago Defender newspaper from 1910-1975. At the heart of Black Studies Center is Schomburg Studies on the Black Experience, consisting of essays that provide an introduction to major topics in Black Studies. Explore interdisciplinary topics through in-depth essays; read the seminal research and timelines that accompany each topic; and search for images and film clips to provide another dimension to your research.
February Arguments at the United States Supreme Court
From SCOTUS Blog:
Monday, February 21, 2023
Gonzalez v. Google LLC – whether section 230(c)(1) of the Communications Decency Act (codified at 47 U.S.C. § 230) immunizes interactive computer services when they make targeted recommendations of information provided by another information content provider, or only limits the liability of interactive computer services when they engage in traditional editorial functions (such as deciding whether to display or withdraw) with regard to such information.
Tuesday, February 22, 2023
Twitter v. Taamneh – (1) whether a defendant that provides generic, widely available services to all its numerous users and "regularly" works to detect and prevent terrorists from using those services "knowingly" provided substantial assistance under 18 U.S.C. § 2333 merely because it allegedly could have taken more "meaningful" or "aggressive" action to prevent such use; and (2) whether a defendant whose generic, widely available services were not used in connection with the specific "act of international terrorism" that injured the plaintiff may be liable for aiding and abetting under Section 2333.