This week in the Law Library we're teaching first year students Administrative Law research and advanced searching, exploring legal analytics, looking at e-discovery, continuing to celebrate Black History Month, beginning to celebrate Women's History Month, and previewing oral arguments for the Ohio Supreme Court and the U.S. Supreme Court.
This Week's Research Sessions
Monday, February 27, 2023
Advanced Legal Research
Legal Technology & Research Instructional Services Librarian, Shannon Kemen & Electronic Resources​  & Instructional Technology Librarian Ron Jones
1:30pm – 2:55pm
Room 107
Advanced Decision Tree Analysis
Instructional & Reference Services Librarian Laura Dixon-Caldwell & Interim Director Susan Boland
Legal Analytics
3:05pm – 4:30pm
Room 107
Wednesday, March 1, 2023
Law School Competencies Information Table

Laura Dixon-Caldwell, Instructional & Reference Services Librarian & Shannon Kemen, Legal Technology & Research Instructional Services Librarian
Atrium Table
8:30 – 9:00am
Learn about how you can participate in the law school research and technology competencies! University of Cincinnati Law students who complete the requirements of the Competency programs before graduation will receive a notation on their transcript stating that they are competent with respect to legal research and/or technology, a credential they can list proudly on their resumes as proof of the research skills they offer prospective employers.
Lawyering II, Advocacy, section 6
Interim Director Susan Boland
Introduction to Administrative Law
1:30pm – 2:55pm
Room 135
Advanced Legal Research
Legal Technology & Research Instructional Services Librarian, Shannon Kemen & Electronic Resources​  & Instructional Technology Librarian Ron Jones
1:30pm – 2:55pm
Room 107
Thursday, March 2, 2023
Legal Technology Competency Program
12:15pm – 1:15pm
Room 245 & Zoom
Ediscovery Technology for Better Case Outcomes
Virtual speaker: David Smolin, DISCO
See how cutting-edge ediscovery technology is used by lawyers to find evidence and win cases. The proliferation of data is increasing exponentially, touches almost every practice area, and most associate attorneys will be tasked with document review at some point in their career. Be ready for the challenge. Gain an edge in this competitive job market by learning the basics of ediscovery and how to tackle these challenges. These skills be sure to help you stand out at the firm and be invaluable to the partners. This program will feature a virtual speaker, David Smolin, a Fordham Law School graduate, who practiced as a litigator for 4 years before starting a career in eDiscovery. During his ten years in ediscovery he has been a document review manager, a project manager, a solutions architect and a consultant.
Lawyering II, Advocacy, section 2
Interim Director Susan Boland
Introduction to Administrative Law
4:40pm – 6:05pm
Room 135
Featured Study Aids
Available via CALI, this lesson focuses on ediscovery.
On completion of the lesson, the student will be able to:
1. Explain the concept of electronically stored information.
2. Understand what triggers the duty to preserve ESI that will be relevant to litigation and the general mechanics of a "litigation hold."
3. List the types of ESI issues that must be discussed in early discovery planning.
4. Describe the process through which requests for ESI are made and responded to.
5. Identify and apply the sanctions that are available for "spoliation" — the wrongful deletion of ESI.
Available through the West Academic study aid subscription, this text covers issues relating to electronically stored information (ESI) in litigation. It looks at the Federal Rules of Civil Procedure governing ESI, technology-assisted review of ESI, and the use of ESI in criminal cases. It also includes extensive treatment of preservation, search for and production of ESI, privilege protection, sanctions, ethical obligations of attorneys with respect to technology, and how the federal rules can be and have been adopted to accommodate digital evidence.
Available through the LexisNexis Digital Library study aid subscription, this text serves as an introduction to the practical application of the discovery rules. The book introduces each discovery topic briefly and then provides a context and structure for exercises and self-study.
Featured Database
Available on Bloomberg Law, this is a resource to guide early-career associates through each aspect of the fact discovery process in litigation. The content covers all fundamental tasks of fact discovery, including implementing a litigation hold; document collection and review; preparing, serving, and responding to written discovery; engaging in depositions and third-party discovery; handling discovery disputes; and more. It also includes practice area specific guidance for discovery in bankruptcy, patent, and employment cases.
Featured Guide
Featured Treatise
Available on Bloomberg Law, this text is an introduction to e-Discovery. It covers new methods of search and review, a discussion of the 2015 amendments to the Federal Rules of Civil Procedure, practical advice on litigation holds, how to evaluate the reasonableness of e-Discovery vendor bills, the advantages of transparency in selecting how to design a search for digital information, why cooperation during the e-Discovery process is essential to success, ethical issues associated with e-Discovery, and how to confront and control e-Discovery abuses.
Featured Website
This web page features links to articles, blogs, treatises, webinars, and checklists.
Featured Videos
Hosted by the San Diego Paralegal Association and the Association of Certified e-Discovery Specialists, Orange County Chapter, these videos are recorded from the eDiscovery Summer Refresher Virtual Conference.
February is Black History Month
This year's theme for Black History Month is Black Resistance. According to the Association for the Study of African American Life and History, "[a]s societal and political forces escalate to limit access to and exercise of the ballot, eliminate the teaching of Black history, and work to push us back into the 1890s, we can only rely on our capacity to resist" and "[t]his is a call to everyone, inside and outside the academy, to study the history of Black Americans' responses to establish safe spaces, where Black life can be sustained, fortified, and respected."
University of Cincinnati Celebrations, Resources & Events
Law Library Display
Explore some of the College of Law's notable African American alumni as well as a few of history's most impactful African American Lawyers and Legislators. Be sure to check out one (or two) of our display books! This display was curated by Library Associate Rhonda Wiseman.
UC Libraries Displays
Cincinnati African American Medical Trailblazers
On display on the 4th floor lobby of Langsam Library, this exhibit features materials from the collections of UC Libraries about Lucy Oxley, MD, the first person of color to receive a medical degree from the UC College of Medicine, and O'dell Owens, renowned physician, former Hamilton County coroner and the first African American to sit on the board of the University of Cincinnati.
The Middle Passage
On the 5th floor lobby of Langsam Library is a large map depicting the Middle Passage, which commonly refers to the experience of enslaved African people as they traveled across the Atlantic Basin to the Americas during the transatlantic slave trade. Illness, insanity, hunger, dehydration, torture, revolt, suicide and ship wreck led to the death of ~1.8 million Africans at sea during their Middle Passage. The exhibit corresponds with the Uncommon Read of the book "Slavery at Sea: Terror, Sex, and Sickness in the Middle Passage" by Sowande' M. Mustakeem. A Lunch and Learn with the author is scheduled for Thursday, Feb. 23 from 12:30-2pm in the Donald C. Harrison Health Sciences Library's Stanley J. Lucas M.D. Boardroom (E005HA).
Both exhibits were curated by UC Libraries faculty and staff: Meshia Anderson, Susan Banoun, Sidney Gao, Tiffany Grant, Gino Pasi and June Taylor-Slaughter. It was designed by UC Libraries communications design co-op Jakob Elliott.
Each February, the UC Alumni Association gathers to pay tribute to our past, salute excellence and achievement within the Black UC family, and rejoice in the progress yet to come.
CECH proudly acknowledges influential African American students, staff, faculty, alumni, and community partners who made history locally or beyond as we celebrate Black History Month.
Throughout February, UC Athletics will celebrate with a month-long digital storytelling effort.
February 27, 2023
Open Academic Classes
2:00 p.m. – 3:20 p.m.
Swift Hall 819
Throughout February, select classes across campus will be open for Bearcats and their guests to drop in and learn. A list of open classes will be available in every discipline, from history and sociology to medicine and music. Come in and experience Black history from a truly interdisciplinary perspective. On February 27th, the class is "Hip Hop Intellectualism"
February 28, 2023
Open Academic Classes
11:00 a.m. – 12:20 p.m.
Baldwin Hall 544
Throughout February, select classes across campus will be open for Bearcats and their guests to drop in and learn. A list of open classes will be available in every discipline, from history and sociology to medicine and music. Come in and experience Black history from a truly interdisciplinary perspective. On February 28th, the class is titled "Evolution and Migration of Homo Sapiens" in UC's Department of Anthropology, Biology
Black History Month Lunch & Learn: Black Resistance
11:30 a.m. – 1:15 p.m.
USBA Walters 100
Join the UCBA community as we welcome Dynamic Speakers Ms. Ebony J and Donny Harper as guest speakers for their 2023 BHM Lunch & Learn event. They will be speaking to this year's Black History Month theme 'Black Resistance.' RSVP
Town Hall – Staying in THIS powerful place: Reflections on Black History Month
1:00 p.m. – 2:30 p.m.
UC's Charles Phelps Taft Research Center, Edwards 1, 47 Corry Boulevard
Join Valencia Moses, learning facilitator at Cincinnati State Technical and Community College, for a guided conversation on capitalizing on the energy of Black History Month 2023 throughout the year. "Staying in THIS powerful place" will help reflect on 28 days of Black excellence and give feedback on programming and dialogue on strategic goals for the future. Take part in a powerful networking event for students, faculty and staff working to recognize and end polite silence surrounding racial injustice. UC's Center for Truth, Racial Healing & Transformation and Coalition for Anti-Racist Action will guide conversations on how the entire Bearcat community can work together to normalize true equity on UC's campus and beyond. Urbanist Media will record a special podcast that will tell little-known stories of urban history, highlighting stories of women, people of color and other marginalized groups to preserve their important contributions. Add your voice to this bonus episode featuring one-on-one interviews with the co-host and producer of the Urban Roots podcast, Deqah Hussein-Wetzel.
Sip & Paint
6:00 p.m. – 8:00 p.m.
AARC, 60 West Charlton
Join SIS and UC Black Women on the Move for our annual Sip and Paint. Come enjoy a night of good vibes and music while you paint.
When Identity Isn't so Simple
6:00 p.m. – 8:00 p.m.
AARC Harambe Room, 60 West Charlton
Highlight and celebrate individuals with multicultural backgrounds and identities.
Selected Resources to Learn More About Black History
Previously, we focused on resources regarding African Americans in the legal profession, museum and media resources, and databases that will help you learn more about Black history and culture. This week we will explore selected books.
This text explores social contract theory and state governance through the lens of the African American experience. It asserts "social nullification" as a legitimate and constitutional response to the USA's crisis of legitimacy. It includes include perspectives from social and political philosophy, philosophy of law, legal theory, sociology, critical race theory, and Africana Studies.
With this third edition of Critical Race Theory, editors Richard Delgado and Jean Stefancic have created a reader for the twenty-first century—one that shakes up the legal academy, questions comfortable liberal premises, and leads the search for new ways of thinking about our nation's most intractable, and insoluble, problem—race. The contributions, from a stellar roster of established and emerging scholars, address new topics, such as intersectionality and black men on the "down low." Essays also confront much-discussed issues of discrimination, workplace dynamics, affirmative action, and sexual politics. Also new to this volume are updated section introductions, author notes, questions for discussion, and reading lists for each unit. The volume also covers the spread of the movement to other disciplines such as education.
Black people and people with disabilities in the United States are distinctively disadvantaged in their encounters with the health care system. These groups also share harsh histories of medical experimentation, eugenic sterilizations, and health care discrimination. Yet the similarities in inequities experienced by Black people and disabled people and the harms endured by people who are both Black and disabled have been largely unexplored. To fill this gap, Embodied Injustice uses an interdisciplinary approach, weaving health research with social science, critical approaches, and personal stories to portray the devastating effects of health injustice in America. Author Mary Crossley takes stock of the sometimes-vexed relationship between racial justice and disability rights advocates and interrogates how higher disability prevalence among Black Americans reflects unjust social structures. By suggesting reforms to advance health equity for disabled people, Black people, and disabled Black people, this book lays a crucial foundation for intersectional, cross-movement advocacy to advance health justice in America.
Post-Racial Constitutionalism and the Roberts Court: Rhetorical Neutrality and the Perpetuation of Inequality provides the first comprehensive Critical Race Theory critique of the United States Supreme Court under Chief Justice John Roberts. Since being named to the Court in 2005, Chief Justice Roberts has maintained a position of neutrality in his opinions on race. By dissecting neutrality and how it functions as a unifying feature in all the Court's race jurisprudence, this book illustrates the consequences of this ostensible impartiality. By examining the Court's racial jurisprudence dating back to the Reconstruction, the book shows how the Court has actively rationalized systemic oppression through neutral rhetoric and the elevation of process-based decisional values, which are rooted in democratic myths of inclusivity and openness.
In Race on the Brain, Jonathan Kahn argues that implicit bias has grown into a master narrative of race relations—one with profound, if unintended, negative consequences for law, science, and society. He emphasizes its limitations, arguing that while useful as a tool to understand particular types of behavior, it is only one among several tools available to policy makers. An uncritical embrace of implicit bias, to the exclusion of power relations and structural racism, undermines wider civic responsibility for addressing the problem by turning it over to experts. Technological interventions, including many tests for implicit bias, are premised on a color-blind ideal and run the risk of erasing history, denying present reality, and obscuring accountability. Kahn recognizes the significance of implicit social cognition but cautions against seeing it as a panacea for addressing America's longstanding racial problems. A bracing corrective to what has become a common-sense understanding of the power of prejudice, Race on the Brain challenges us all to engage more thoughtfully and more democratically in the difficult task of promoting racial justice.
March Is Women's History Month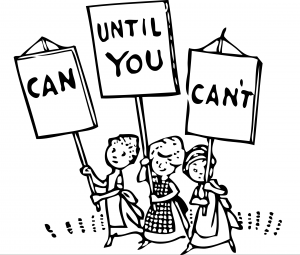 The 2023 Women's History theme is "Celebrating Women Who Tell Our Stories." According to the National Women's History Alliance, "Women have long been instrumental in passing on our heritage in word and in print to communicate the lessons of those who came before us. Women's stories, and the larger human story, expand our understanding and strengthen our connections with each other."
Women's History Month had its origins as a national celebration in 1981 when Congress passed Pub. L. 97-28 which authorized and requested the President to proclaim the week beginning March 7, 1982 as "Women's History Week." Throughout the next five years, Congress continued to pass joint resolutions designating a week in March as "Women's History Week." In 1987 after being petitioned by the National Women's History Project, Congress passed Pub. L. 100-9 which designated the month of March 1987 as "Women's History Month." Between 1988 and 1994, Congress passed additional resolutions requesting and authorizing the President to proclaim March of each year as Women's History Month. Since 1995, Presidents Clinton, Bush and Obama have issued a series of annual proclamations designating the month of March as "Women's History Month."
UC College of Law & Campus Events Celebrating Women's History Month
March 1, 2023
"Bubbles & Troubles": Race and Feminism
6:00 p.m. – 8:00 p.m.
Join Africana Studies, WGGS, UC Black Women on the Move, and the Black Feminist Symposium for a 4-part, month-long conversation regarding the complicated historical divisions amongst feminists due to socio-cultural factors like race, income, and "gender."
March 2, 2023
Black Women Love Black Women
6:00 p.m. – 7:30 p.m.
AACRC
Come together as we learn about ways Black woman on campus can support ourselves and each other through self-care and interactive conversation. RSVP
March 3, 2023
7th Annual Black Feminist Symposium
8:00 a.m. – 4:00 p.m.
TUC Great Hall
The Black Feminist Symposium is dedicated to celebrating Black feminist thought, scholarship, and activism and to uplifting voices, forums, panels, and creative work led by students, staff and faculty at UC, in the Cincinnati metro community, and throughout the region. The Symposium works to unite Black feminist work both in and outside the Academy and to connect student activism with community work while supporting space that elevates the contributions of Black women, femmes, and gender non-conforming folks to achieving social justice.
This year's symposium theme, "Building Our Own Table, Defining Our Own Terms," explores the friction between working within oppressive systems (reform) versus working from the outside (revolution). For decades, the expression "having a seat at the table" has been used to gauge people's access to power and decision-making in the workplace, in their communities, in political spaces – access often equated with their ability to wage change. Audre Lorde's famous quote – "the master's tools will not dismantle the master's house" – calls us to interrogate how the systems and institutions we move through each day were built, what tools are used to maintain their power, and what a better blueprint might look like – one that centers the needs and joys of Black women, femmes, and gender non-conforming folks. This year's program is expanded with 14 concurrent sessions, two afternoon networking sessions (a QTPOC Coffee Hour and a Black Women in Higher Education Networking event, and will again feature a self-care space with journaling, a massage chair, and more. More information and RSVP
February & March Arguments at the United States Supreme Court
From SCOTUS Blog:
Monday, February 27, 2023
Dubin v. United States – whether a person commits aggravated identity theft any time they mention or otherwise recite someone else's name while committing a predicate offense.
Tuesday, February 28, 2023
Biden v. Nebraska – (1) whether six states have Article III standing to challenge the Department of Education's student-debt relief plan; and (2) whether the plan exceeds the secretary of education's statutory authority or is arbitrary and capricious.
Department of Education v. Brown – (1) whether two student-loan borrowers have Article III standing to challenge the Department of Education's student-debt relief plan; and (2) whether the department's plan is statutorily authorized and was adopted in a procedurally proper manner.
Wednesday, March 1, 2023
New York v. New Jersey – whether the Supreme Court should issue declaratory judgment and/or enjoin New Jersey from withdrawing from its Waterfront Commission Compact with New York, which grants the Waterfront Commission of New York Harbor broad regulatory and law-enforcement powers over all operations at the Port of New York and New Jersey.
February & March Oral Arguments at the Ohio Supreme Court
You can view the live stream of oral arguments on the Court's website or see them after the arguments take place in the Ohio Channel archives.
Tuesday, February 28, 2023
City of Olmsted Twp. v. Ritchie – whether a trial court can impose jail time for a community control violation when the court didn't suspend part of the original sentence at sentencing. Court News Ohio Oral Argument Preview
Stingray Pressure Pumping LLC v. McClain – whether a 2017 amendment to the Ohio tax code that exempted from Ohio sales and use tax the items used to insert water, chemicals, and sand into wells to create the fractures in rock that allow for the production of oil and natural gas applies to Stingray's purchases of certain equipment it uses in its hydraulic fracturing operations. Court News Ohio Oral Argument Preview
Krewina v. United Specialty Ins. Co. – whether an exclusion in a commercial insurance policy for harm from assault and battery, or harm from abuse, applies if a person prosecuted for causing the harm is deemed not guilty by reason of insanity. Court News Ohio Oral Argument Preview
Everhart v. Coshocton Cty. Mem. Hosp. (2022-0407/ 2022-0424) – whether the statute of repose for medical claims, in Ohio Rev. Code sec. 2305.113(C), applies to wrongful death claims described in Chapter 2125 of the Ohio Revised Code. Court News Ohio Oral Argument Preview
Wednesday, March 1, 2023
Schaad v. Alder – whether cities can tax nonresident workers who did their jobs outside of the city during the pandemic. Court News Ohio Oral Argument Preview
State v. Miller – (1) whether the wrong standard was used by the appellate court to deny a hearing that would determine if new evidence in the case of a man convicted of murder would affect the outcome of the original trial, and (2) whether the Ohio Constitution guarantees the right to a hearing or new trial based on a claim of actual innocence in light of new evidence that contradicts evidence presented at the original trial. Court News Ohio Oral Argument Preview
Ayers v. Ayers – whether a trial court must explicitly state that a parent's unemployment or underemployment is voluntary before determining the parent's potential income for child support calculation purposes. Court News Ohio Oral Argument Preview
Wildcat Drilling, LLC v. Discovery Oil & Gas, LLC – whether a contract clause that specifies that only the terms of the contract define the entire contractual agreement express a clear intent of the parties to nullify application of common law contract rules. Court News Ohio Oral Argument Preview